Navigating the world of YouTube is no easy task. From crafting the perfect video to understanding the vast audience's dynamics, there's a lot to consider. Enter the game-changers: AI tools for YouTube.
These innovative tools harness the power of artificial intelligence to simplify complex tasks, offering creators a smoother path to success. Whether it's optimizing video content, gaining deep insights, or automating mundane tasks, AI is shaping the future of YouTube content creation.
By embracing these tools, content creators not only level up their production but also gain a significant edge in this competitive landscape. Join us as we explore the top AI tools every YouTuber should consider.
Best AI Tools for YouTube
1. TubeBuddy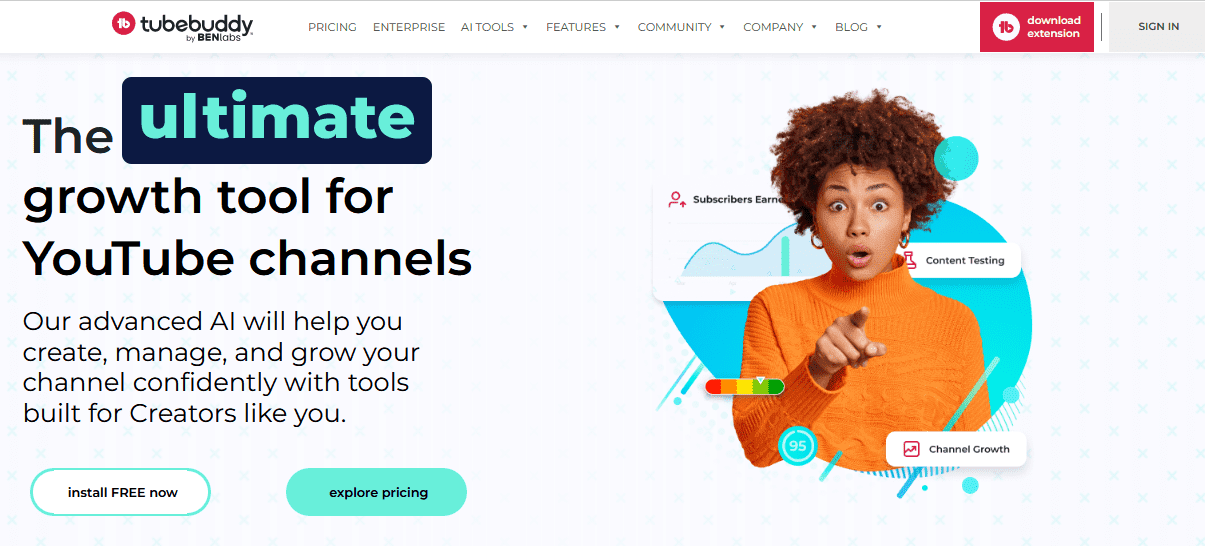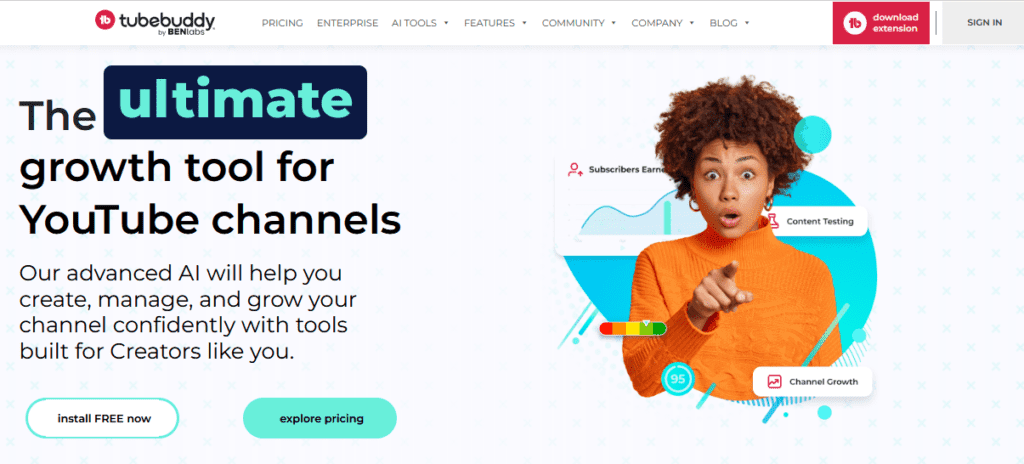 TubeBuddy is a browser extension and mobile app designed to seamlessly integrate with YouTube's interface.
Primarily, it aids content creators, marketers, and YouTubers in optimizing their videos for better reach, providing actionable insights, and simplifying the overall channel management process.
Specifications
TubeBuddy is built as a browser extension, designed to mesh smoothly with YouTube's platform, enabling a direct user experience.
It's compatible with a variety of popular web browsers like Chrome, Firefox, and Safari. Once installed, users will notice a series of icons and menus added directly onto their YouTube dashboard, signifying the added functionalities. The mobile application variant ensures portability, allowing users to make data-informed decisions on the go.
With regular updates, the tool keeps up with YouTube's ever-changing algorithms, ensuring creators have the latest tools at their disposal.
Features
TubeBuddy is brimming with features tailored for enhancing the YouTube user experience. It fundamentally transforms how creators approach content management and optimization.
Keyword Research: TubeBuddy's keyword research tool is invaluable. It aids in discovering high-performing keywords, ensuring videos have the best chance of being discovered by a broader audience.
Video Optimization: Beyond just keywords, there's video A/B testing. Creators can experiment to determine which thumbnail, title, or description works best to engage viewers.
Engagement Tools: The feature suggesting the best time to publish is a favorite among many. It recommends optimal timings based on when your audience is most active.
Additional features like automated responses for user comments and an analytics dashboard further enhance the content creator's toolkit.
Pros
Direct integration with YouTube's interface.
Provides a suite of SEO tools tailored for YouTube content.
Simplifies bulk video processing, such as mass updates to descriptions or annotations.
Offers competitor tracking.
Cons
Some advanced features require a premium subscription.
Can be overwhelming for beginners due to the plethora of tools.
Pricing
TubeBuddy offers a tiered pricing model, catering to various needs:
Free Version: Basic tools and functionalities.
Pro Plan: Starting at $9/month, offering advanced video embedding and other premium tools.
Star Plan: Priced at $19/month, this tier introduces bulk processing tools and competitor scorecards.
Legend Plan: At $49/month, users access all TubeBuddy's features, including A/B testing and advanced analytics.
How does it compare to other tools?
TubeBuddy stands out due to its direct integration with the YouTube platform, offering tools and features that are specifically tailored for YouTubers.
While many tools offer video SEO or analytic insights, TubeBuddy's broad range of features, from A/B testing to automated responses, makes it a comprehensive solution for anyone serious about growing their YouTube channel.
2. vidIQ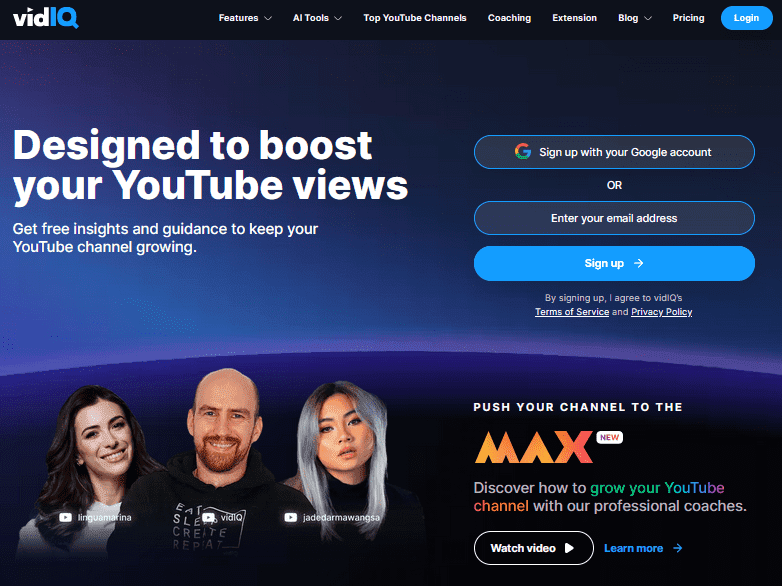 vidIQ is a trusted tool in the YouTube creator community. It offers a blend of analytics, SEO recommendations, and channel management functionalities that aim to boost a video's visibility, drive more subscribers, and ultimately, optimize channel growth.
Specifications
vidIQ is available as a browser extension, making it easy to access its functionalities right from the YouTube dashboard.
Compatible with Chrome and Firefox, once integrated, vidIQ overlays its metrics and suggestions over the standard YouTube interface. Regular updates ensure that users get timely advice in response to YouTube's ever-evolving algorithms.
Furthermore, the mobile application variant enables insights on the fly, especially useful for those who need to manage their channel without being tied to a desktop.
Features
vidIQ promises a suite of features that cater to both budding YouTubers and established channels.
Video Analytics: At the heart of vidIQ is its analytics. From viewing detailed metrics of any video on YouTube to understanding trending content, it's a boon for creators keen on data-driven decisions.
SEO Tools: Boosting video discoverability is simpler with their keyword recommendations, tag suggestions, and SEO scores. This ensures that videos are set up to reach the widest possible audience.
Competitor Analysis: Keeping an eye on the competition is vital. vidIQ provides competitor tracking, giving insights into their best practices and content strategies.
Additionally, features like the best time to post, channel audits, and achievement tracking ensure creators are always in the loop, understanding their growth trajectory and areas of improvement.
Pros
Comprehensive analytics dashboard with real-time data.
Strong focus on video SEO to enhance discoverability.
Offers insights into competitor channels.
User-friendly interface with actionable recommendations.
Cons
Some features locked behind the premium versions.
Might be overwhelming for users new to YouTube analytics.
Pricing
vidIQ employs a tiered pricing structure to cater to different needs:
Basic: Free, offering fundamental analytics and some SEO tools.
Pro: Priced at $7.50/month, it unlocks deeper analytics, historical data, and advanced SEO features.
Boost: Starting at $39/month, this offers all Pro features along with competitor tracking, trend alerts, and more.
Boost+: At $415/month, this is tailored for enterprises, providing all vidIQ features along with a dedicated account manager and training sessions.
How does it compare to other tools?
vidIQ, with its deep emphasis on video SEO and analytics, positions itself as an indispensable tool for creators serious about channel growth.
While other tools might offer channel management features, vidIQ's detailed analytics combined with its SEO recommendations make it a comprehensive choice for those who want to combine data with actionable insights for YouTube success.
3. SocialBook Builder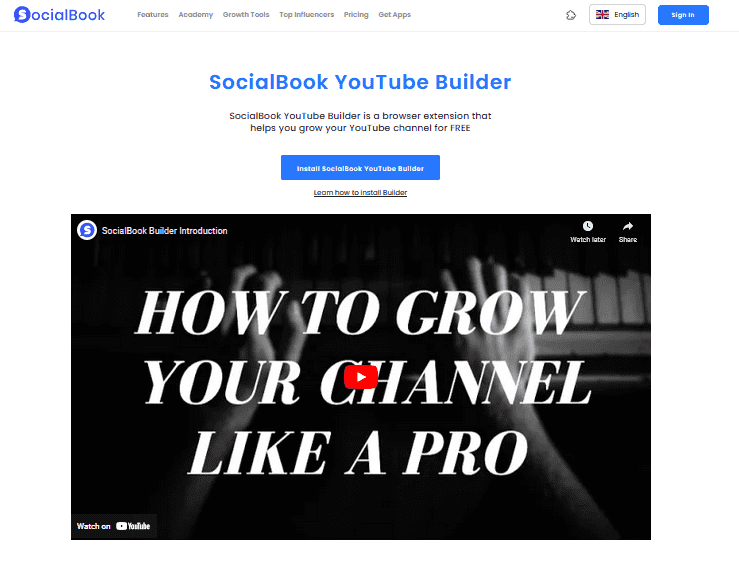 SocialBook Builder jumps onto the scene as an influencer marketing and analytics platform, focused primarily on YouTube.
It allows creators to better understand their audience, enhance their content strategy, and connect with potential collaborators or brands.
Specifications
SocialBook Builder is a web-based platform, requiring no installations. Users simply log in via their browser to access the tool. Designed to be responsive, it adjusts smoothly to different devices, from desktops to tablets and mobiles.
Their backend architecture is built to fetch real-time data, ensuring that users get up-to-the-minute insights about their YouTube channels.
A straightforward dashboard interface helps in easy navigation and swift understanding of the presented metrics.
Features
SocialBook Builder provides an assortment of features tailored for YouTube influencers and marketers:
Audience Analytics: It starts with understanding one's audience. SocialBook offers insights into the demographics, interests, and engagement levels of a channel's subscribers.
Content Suggestions: By analyzing successful content patterns, SocialBook provides tailored recommendations for upcoming video topics, aiding in content planning.
Influencer Collaboration: Looking to collaborate? The platform allows you to find and reach out to influencers in your niche or related areas.
A blend of other features like brand partnership opportunities, automated reports, and detailed video analytics ensures a holistic tool for YouTube influencers.
Pros
In-depth audience understanding with segmented analytics.
Content strategy enhancement through tailored recommendations.
Collaboration tools for influencers and brands.
Real-time data ensures timely insights.
Cons
Geared more towards influencers, might not cater to casual content creators.
Some advanced features only available in premium plans.
Pricing
SocialBook Builder adopts a varied pricing model:
Free: Basic insights with limited analytics.
Premium: Priced at $49/month, it unlocks detailed analytics, brand partnership opportunities, and premium influencer collaboration tools.
Enterprise: Custom pricing for agencies or big brands, providing all features with added emphasis on brand-influencer partnerships and tailored reports.
How does it compare to other tools?
While many tools focus on pure analytics and SEO, SocialBook Builder pivots more towards influencer marketing.
It's ideal for creators aiming to understand their audience in-depth, plan their content more strategically, and collaborate either with fellow influencers or brands. The tool finds its niche amidst those looking to take their influencer status on YouTube a step further.
4. NoxInfluencer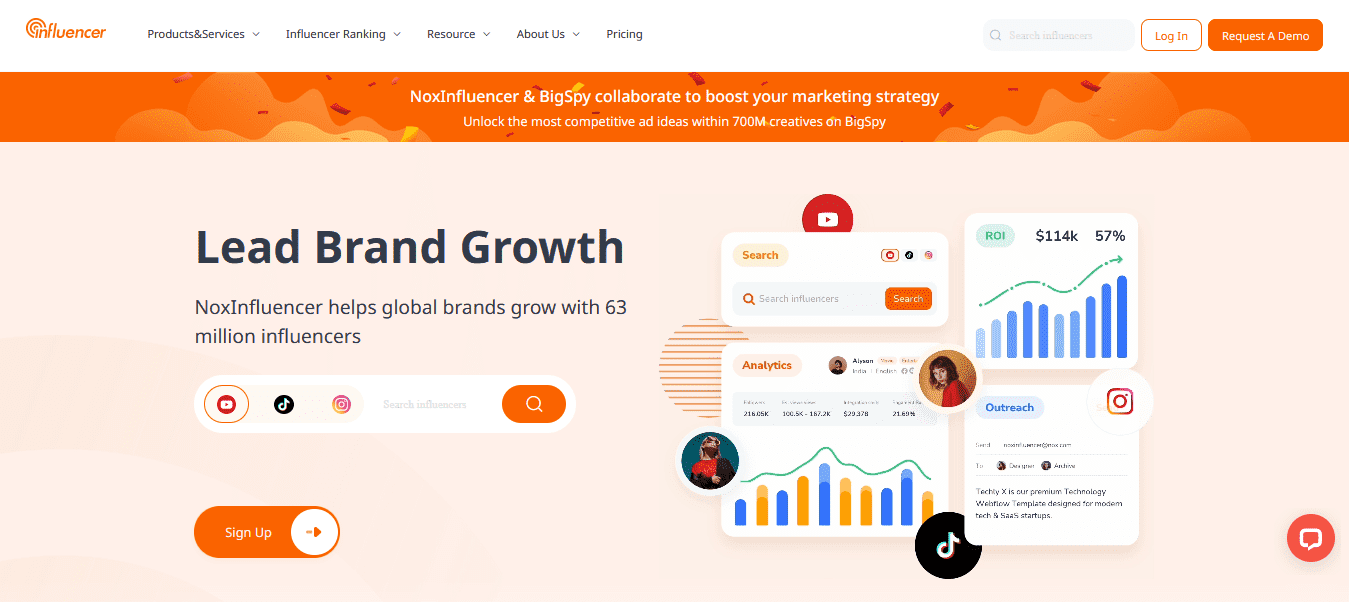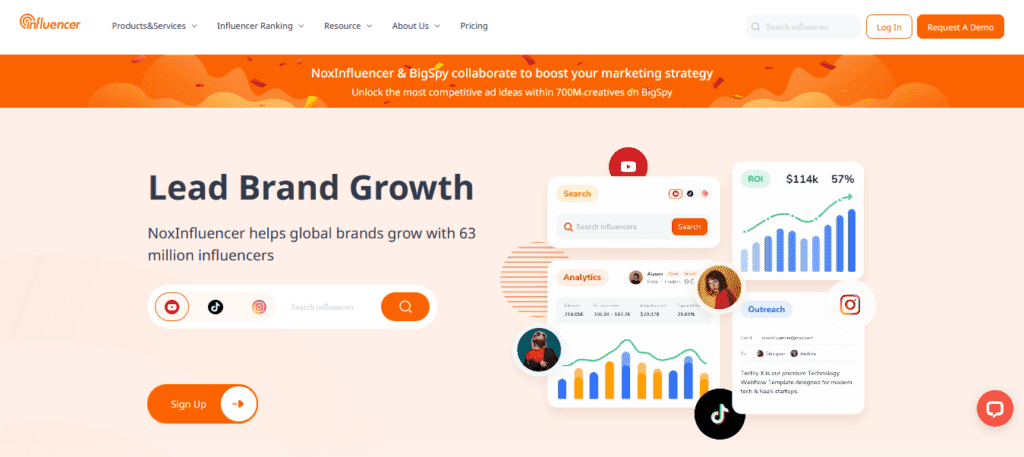 As a dynamic influencer marketing and analytics tool, NoxInfluencer provides users, particularly YouTube creators, a gateway to dive into actionable insights.
The tool offers a mix of channel evaluations, competition analysis, and potential revenue calculations, assisting creators in refining their YouTube journey.
Specifications
NoxInfluencer presents itself as a comprehensive, web-based platform designed for YouTube creators and influencers. As it operates entirely online, there's no need for software downloads or installations.
Whether you're accessing it from a laptop at home, a tablet during your commute, or even a smartphone during a quick coffee break, its responsive design ensures optimal functionality across devices. One of the standout aspects of NoxInfluencer is its seamless integration with YouTube's API.
This not only guarantees the accuracy of the metrics you're presented with but also ensures they're updated in real time. As for its interface, users are greeted with a design that emphasizes simplicity and user-friendliness.
The menus are intuitive, with each function clearly labeled, making navigation a breeze even for those who might be new to YouTube analytics.
Features
NoxInfluencer is not just another YouTube analytics tool; it brings its unique offerings:
Channel Analysis: Get a snapshot of your channel's performance metrics, from subscriber growth to engagement rates.
Video Ranking: Understand how your videos fare against others in the same niche or category.
Estimated Earnings: While YouTube's monetization can be a mystery, NoxInfluencer gives a ballpark figure of potential earnings based on current stats.
For those considering collaborations or sponsorships, the tool also provides insights into influencer marketing opportunities and potential brand partnerships.
Pros
Transparent insight into potential YouTube earnings.
Detailed channel and video rankings to understand market position.
Handy for influencers seeking brand collaborations.
Real-time data ensures current insights.
Cons
While in-depth, some features might be overwhelming for beginners.
Advanced features might require premium access.
Pricing
NoxInfluencer's pricing is structured to cater to different user levels:
Basic: Available for free, offers standard channel analytics and basic video rankings.
Professional: At $59/month, users get access to advanced analytics, influencer collaboration opportunities, and detailed video rankings.
Enterprise: Tailored for big brands or agencies, pricing is custom and offers a suite of advanced features including brand-influencer match-making.
How does it compare to other tools?
NoxInfluencer stands out by offering an estimated earnings feature, giving creators a clearer idea of their monetization potential. Additionally, with its focus on influencer marketing and brand partnerships, it's a go-to for those looking to expand their YouTube career beyond just content creation. While there are other analytics tools in the market, NoxInfluencer's blend of analytics and influencer marketing gives it a distinctive edge.
5. VideoCreek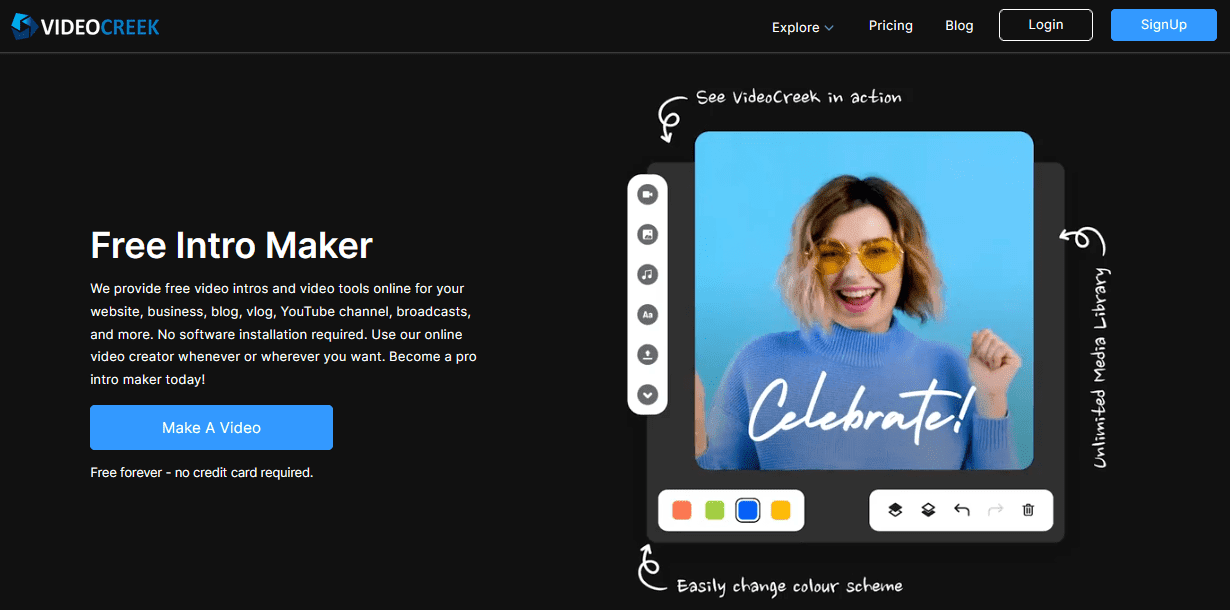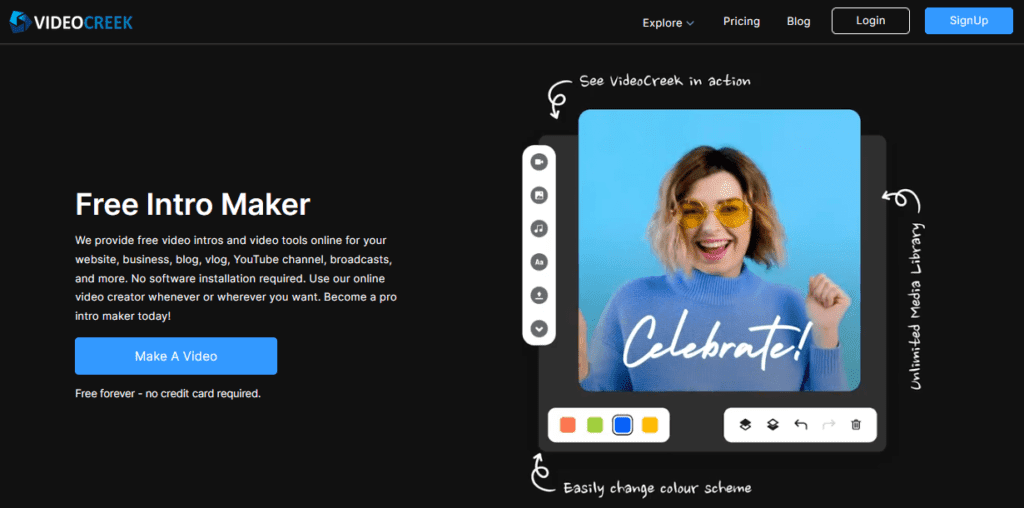 VideoCreek offers a unique blend of AI-driven tools designed to aid YouTubers in creating engaging content. With smart algorithms, it assists in video optimization, ensuring content has the best shot at engaging viewers and achieving high rankings.
Specifications
VideoCreek is a comprehensive online tool, specifically tailored to meet the needs of modern-day YouTubers and content creators.
At its foundation, it's cloud-based, which means all of its functionalities are accessible without the need for space-consuming installations.
This cloud structure not only facilitates easy access from anywhere in the world but also ensures that users always experience the latest version with updated features.
The platform is built using cutting-edge technology to ensure smooth video rendering and real-time AI analytics. The back end is bolstered with robust servers that guarantee minimal downtimes and efficient task handling, so users aren't kept waiting, even with heavy video files.
VideoCreek's user interface is designed with a primary focus on user experience. Each function and tool has been arranged in an intuitive manner, enabling both novices and professionals to navigate with ease.
Furthermore, its compatibility stretches across multiple devices. So, whether a user is operating from a traditional desktop, a laptop, a tablet, or even a smartphone, VideoCreek adjusts its interface to offer optimal usability.
The platform also integrates seamlessly with YouTube's API, ensuring that any content created or edited can be easily uploaded without data loss or format issues.
In terms of data security, VideoCreek employs high-level encryption methods to safeguard user content. Regular security audits are conducted to identify potential vulnerabilities and to patch them promptly.
Features
At its core, VideoCreek is all about empowering creators:
AI-Driven Video Creation: Suggests edits and enhancements based on current YouTube trends.
Content Analyzer: Uses artificial intelligence to gauge content quality and offers feedback.
Music & Sound Effects: AI-recommended audio tracks that best fit the video's mood and theme.
Predictive Performance Metrics: AI-powered predictions on how the video might perform based on current trends.
Pros
AI assistance throughout the video creation process.
Predictive analytics offer foresight into video performance.
Recommendations on edits and enhancements.
Cons
Might have a learning curve for those new to AI tools.
Premium features might be limited to higher-priced plans.
Pricing
VideoCreek offers different plans:
Basic Plan: Limited features with watermarked outputs.
Advanced Plan: Comprehensive tools with AI insights, priced at a monthly fee.
Enterprise Plan: Custom solutions for larger teams, pricing varies based on needs.
How does it compare to other tools?
When it comes to integrating AI into the video creation process for YouTube, VideoCreek stands out. Its predictive analytics and smart suggestions put it a step ahead for those aiming to optimize their content in alignment with the dynamic YouTube landscape.
6. Pexip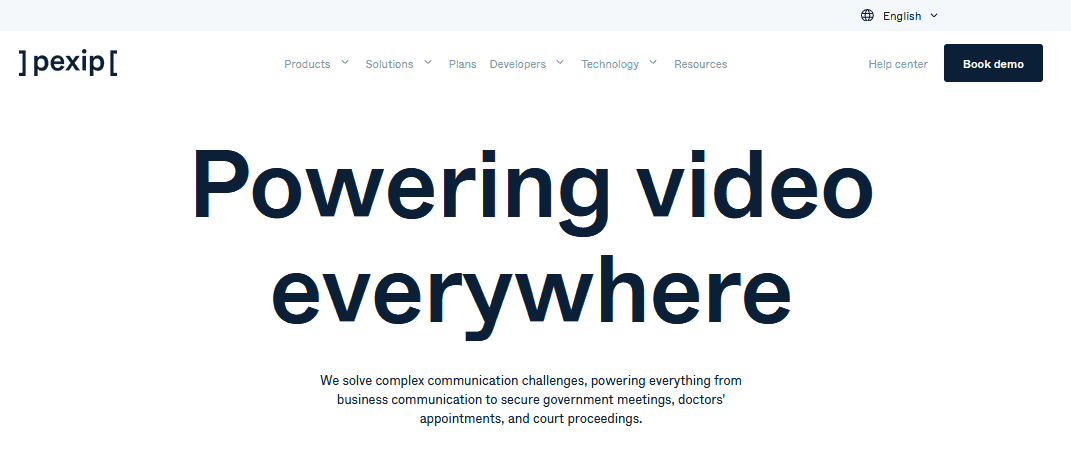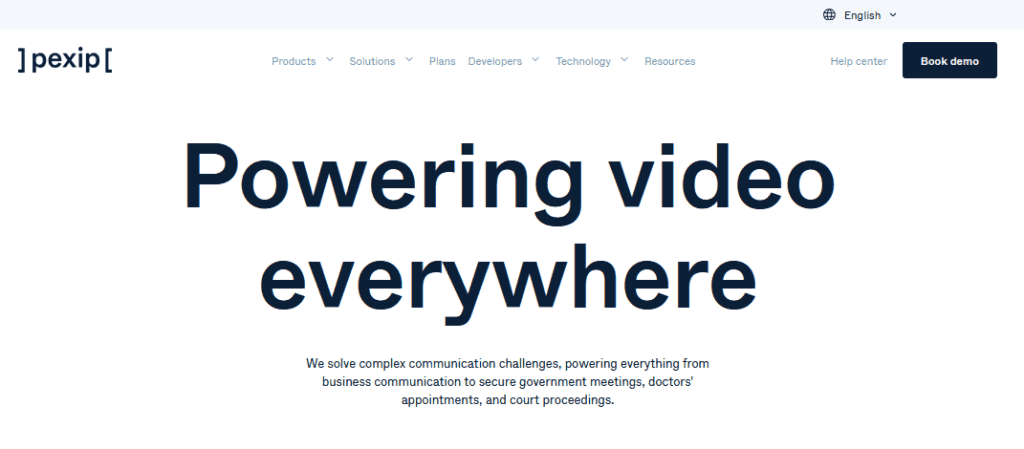 Pexip simplifies video communication across borders, businesses, and platforms, ensuring everyone can be seen, heard, and included.
While primarily known for video conferencing solutions, Pexip offers AI-driven features to enhance the user experience on YouTube and other platforms.
Specifications
Pexip operates in a hybrid cloud environment, offering flexibility for users who need a blend of both on-premises and cloud solutions.
Built on a scalable architecture, Pexip ensures that regardless of the number of participants or video feeds, performance remains consistent. It integrates seamlessly with popular digital tools, making it a versatile choice for businesses and individual creators alike.
The platform is built to ensure HD video quality without compromising on speed, and its robust infrastructure provides a reliable uptime. Encryption standards and stringent security protocols are in place, safeguarding user data and content.
Features
Pexip's main strength lies in its ability to unify different communication platforms:
Adaptive Composition: AI-driven feature that automatically positions participants in a video frame, enhancing the viewer experience.
Platform Integration: Pexip can integrate with major video conferencing tools and platforms, simplifying content sharing on YouTube.
HD Video Quality: Consistent high-definition video ensures professional-quality broadcasts.
Real-time Analytics: Provides insights into video performance, helping creators fine-tune their strategies.
Pros
High-quality video resolution.
Seamless integration with popular platforms.
AI-enhanced video framing with Adaptive Composition.
Cons
Pexip is more enterprise-focused, so individual creators might find some features excessive.
Pricing might be on the higher end for solo YouTubers.
Pricing
Pexip offers a tiered pricing model:
Standard Plan: Basic features suitable for individual creators.
Enterprise Plan: Advanced features tailored for businesses and larger teams, with pricing based on the scale of usage.
Custom Solutions: Pricing and features can be negotiated based on unique requirements.
How does it compare to other tools?
Pexip, with its enterprise-grade solutions, stands apart in terms of scalability and integration capabilities.
For YouTubers or businesses looking to maintain consistent quality and professionalism, especially in a live broadcast scenario, Pexip is a top contender. The AI-driven Adaptive Composition is particularly a standout, offering an enhanced viewer experience.
7. Promo.com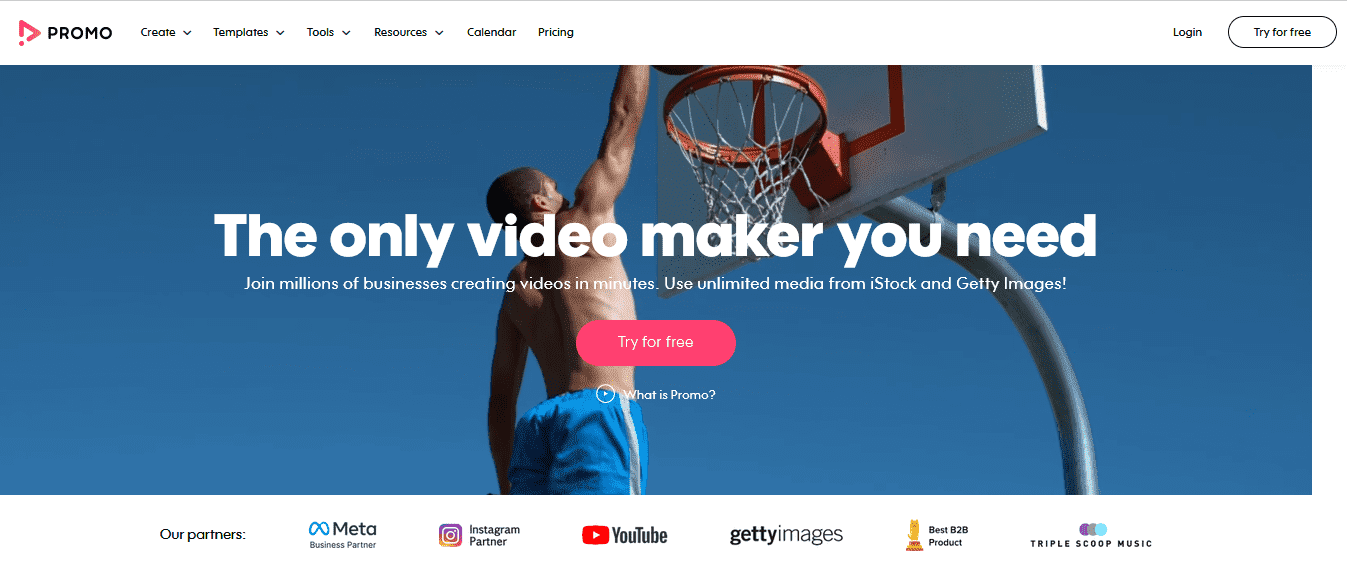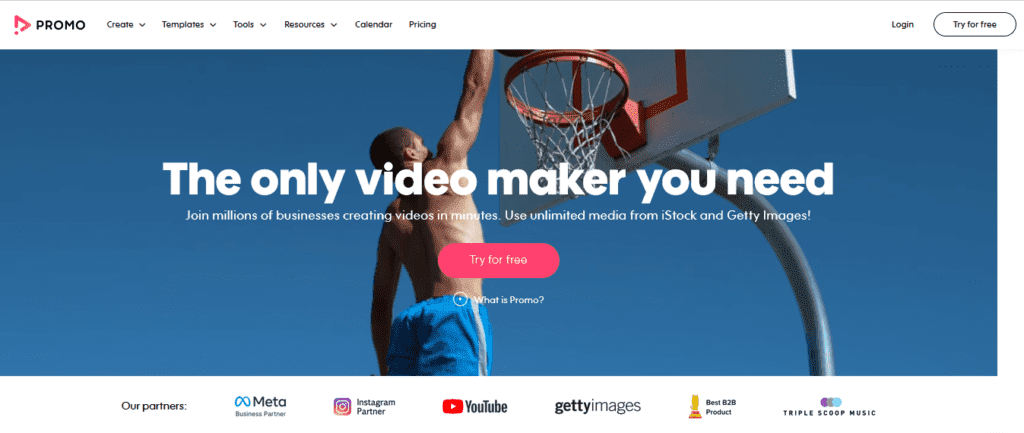 Promo.com is a popular online video creation platform designed for businesses and individuals aiming to enhance their digital marketing presence.
Especially for YouTube creators, it offers a vast library of video clips, templates, and music tracks to produce high-quality video content effortlessly.
Specifications
The platform of Promo.com is completely web-based, eliminating the need for any cumbersome software installations. Built with the latest web technologies, it provides a smooth user experience, ensuring rapid video rendering and previews.
For those wary of file sizes and resolutions, Promo.com handles a wide range of video resolutions, including 4K, and adapts to the best output based on user choice. Its intuitive drag-and-drop interface is suitable for users of all proficiency levels, and its backend servers are optimized for quick video exports, ensuring that users don't face long waiting times.
Moreover, it has seamless YouTube integration, allowing users to directly upload their creations to their YouTube channel. Security is paramount, with high-grade encryption safeguarding user data and media files.
Features
Promo.com sets itself apart with a variety of tools and assets:
Expansive Media Library: Access to premium video clips, images, and music tracks.
Customizable Templates: Ready-made templates tailored for various industries and themes, with simple customization options.
Direct Social Media Integration: Effortlessly upload to YouTube and other platforms directly from the portal.
Text and Animation Tools: Enhance your video with animated text overlays, transitions, and more.
Pros
Wide range of video assets and templates.
User-friendly interface for quick video creation.
Direct upload functionality to YouTube.
Cons
While it offers vast assets, some niche subjects may have limited resources.
The platform might be too simplistic for advanced video editing needs.
Pricing
Promo.com uses a tiered pricing approach:
Basic Plan: Access to core features with limited monthly video exports.
Standard Plan: Additional video exports and access to premium video clips.
Pro Plan: Unlimited video exports, and first access to new features and assets.
How does it compare to other tools?
Promo.com is perfect for those who want a straightforward video creation experience without diving deep into intricate editing.
With its immense library and easy-to-use interface, it's a favorite among marketers and businesses who need quality content with minimal hassle.
While it may not cater to advanced video editing needs, for the majority of YouTube content creators looking to produce engaging content quickly, Promo.com is a strong choice.
8. Descript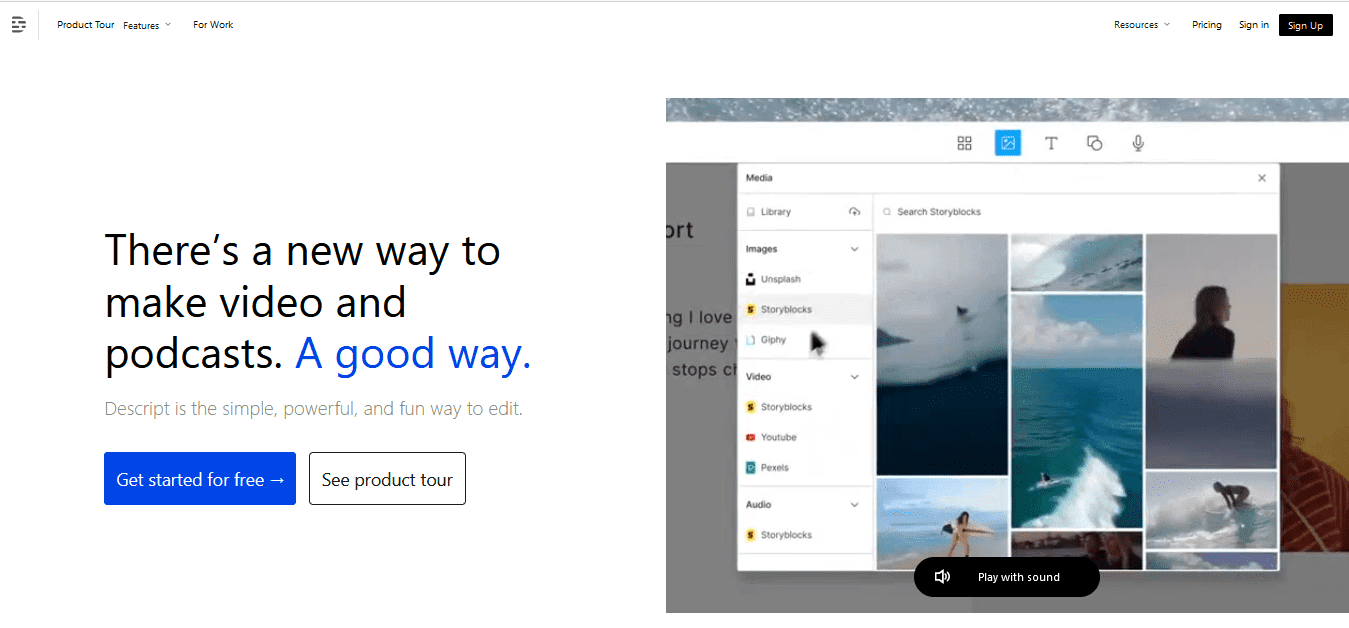 Descript is a revolutionary tool that has transformed the way creators edit audio and video content. At its core, Descript allows users to edit videos by editing the text transcription, bridging the gap between traditional video editing and text manipulation.
For YouTube creators, this means faster and more intuitive editing, especially for content that is dialogue or interview-heavy.
Specifications
Descript operates through both a web-based platform and a downloadable application. Its powerful engine supports various video and audio formats, ensuring compatibility across different recording devices.
The tool uses advanced AI technology to transcribe spoken content, converting them into editable text. This text serves as the base layer for editing, where cuts, trims, and transitions can be made.
Descript also provides cloud storage, enabling seamless collaboration among teams or multiple devices. Security measures, including encryption and controlled access, ensure that user content remains protected.
Features
Descript has a unique approach to content editing, some of its standout features include:
Overdub: An AI voice synthesis tool that lets you generate speech in your own voice or choose from a variety of synthesized voices.
Text-based Editing: Simply delete or rearrange the transcribed text to edit the corresponding video or audio.
Automatic Transcription: Quick and accurate transcription of uploaded content using AI algorithms.
Multitrack Editing: Easily handle projects with multiple audio or video tracks, all while using text-based editing.
Pros
Innovative text-driven approach to video editing.
Accurate automatic transcription speeds up the editing process.
Overdub feature allows for voiceovers without additional recording.
Cons
May require a learning curve for those accustomed to traditional video editing software.
Text-based editing might not cater to all types of video content, especially non-dialogue sequences.
Pricing
Descript offers multiple pricing tiers:
Free Plan: Limited features, suitable for casual users.
Creator Plan: Expanded toolset, including unlimited projects and Overdub access.
Pro Plan: Aimed at professionals, this plan offers collaborative features and higher priority support.
How does it compare to other tools?
Descript stands out in the realm of video editing, offering a text-based approach that simplifies the editing process, especially for dialogue-heavy content.
It might not replace traditional video editing software for complex projects, but for YouTube creators focusing on podcasts, interviews, or dialogue-driven content, Descript is a game-changer.
9. Magisto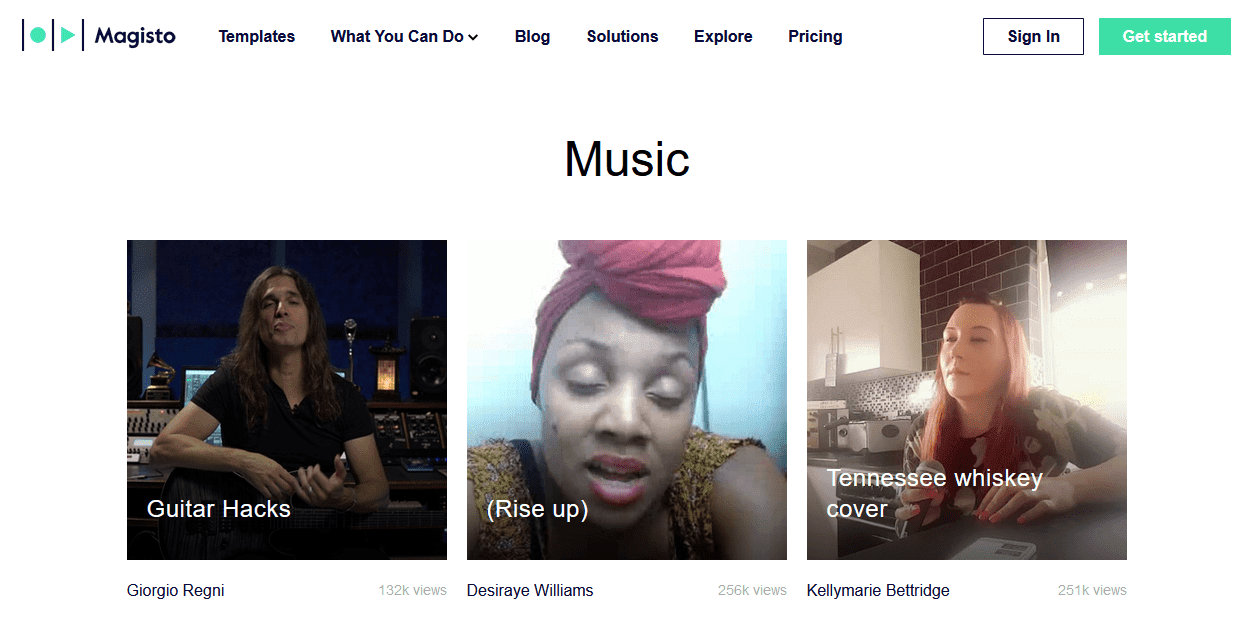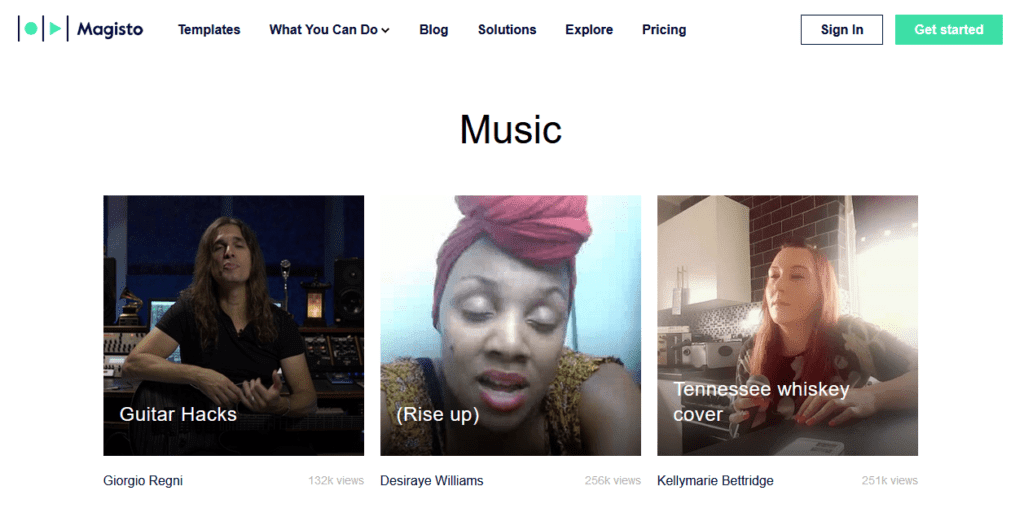 Magisto, powered by Vimeo, is an intuitive video-making solution that leverages AI to help users create captivating video content effortlessly.
Designed for businesses, marketers, and individual creators, Magisto simplifies the video creation process, making it easy for users to produce professional-quality videos for YouTube and other platforms in just a few steps.
Specifications
Magisto is built on a cloud-based infrastructure, allowing users to create and edit videos from anywhere without the need for heavy software installations.
With its AI-driven algorithms, Magisto analyzes the uploaded clips and chooses the best segments, stitches them together, adds effects, transitions, and background music based on the chosen editing style.
The tool supports a wide variety of video resolutions and formats, ensuring optimal output for YouTube uploads. Its backend is designed for speed, ensuring users don't experience lag or extended rendering times.
Features
Magisto offers a range of features tailored for easy video creation:
Smart Video Editor: AI-driven editing that selects and combines the best parts of your footage.
Customizable Templates: Pre-set themes that can be tweaked to align with your brand or desired mood.
Music Library: Access to a vast array of music tracks to set the tone of your video.
Automatic Video Stabilization: Ensures the final output is smooth and professional-looking, even if the original footage has minor shakes.
Pros
Quick and effortless video creation with AI-driven editing.
Vast library of music and themes to suit various content types.
Direct export functionality to Vimeo, YouTube, and other platforms.
Cons
Might lack advanced editing tools for professional videographers.
The AI-driven approach, while efficient, might not always align with specific user preferences.
Pricing
Magisto employs a tiered pricing structure:
Premium Plan: Provides access to all editing styles and unlimited HD movie downloads.
Professional Plan: Adds features like premium editing styles, longer movies, and a wider music library.
Business Plan: Aimed at enterprises, it offers branding options, analytics, and more.
How does it compare to other tools?
Magisto is a boon for those who want a hassle-free video creation experience. Its strength lies in its AI-driven editing approach, which, while it might not cater to complex editing needs, is perfect for creators who want to produce polished content without getting bogged down in manual editing.
Ideal for YouTube content creators on the go, Magisto provides a balance between speed and quality.
10. Motionbox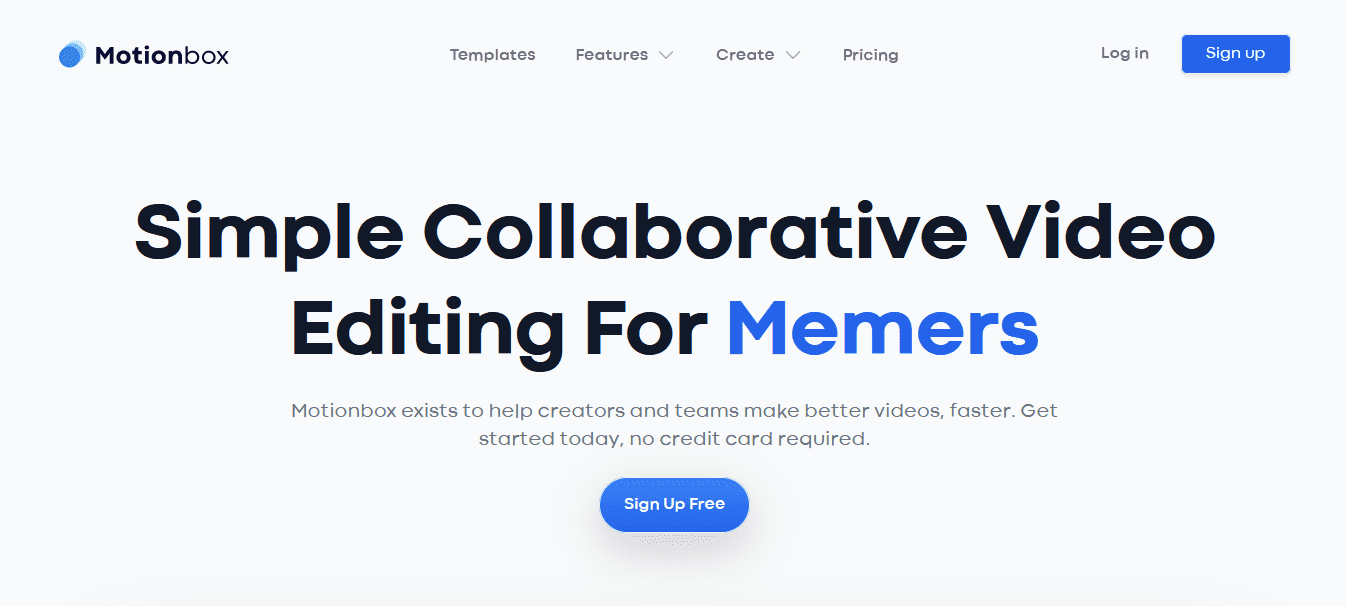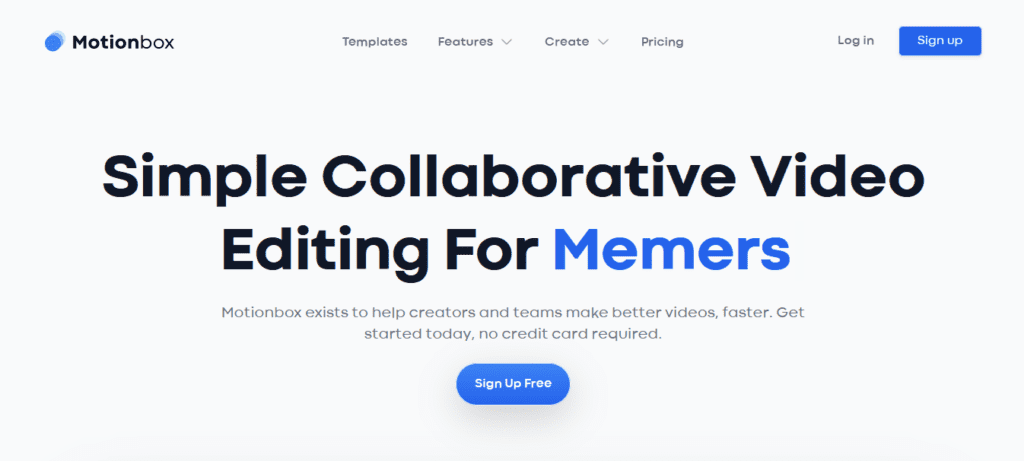 Motionbox is a cutting-edge video creation and editing platform tailored for individuals, content creators, and businesses.
With a blend of AI technologies and intuitive design functionalities, Motionbox simplifies video production, helping users craft compelling YouTube content that resonates with their audience.
Specifications
Operating within a cloud-based environment, Motionbox ensures that users can access and edit their projects from any device with internet connectivity. The platform supports a plethora of video formats and resolutions, making it adaptable for varied content requirements.
Its AI functionalities aid in tasks like scene detection, optimal cut suggestions, and even music beat alignment, ensuring that the editing process is not just swift but also effective in delivering the desired impact.
Features
Motionbox brings a plethora of features to the table, such as:
Collaborative Editing: Allowing teams to work on a project simultaneously, making real-time edits and suggestions.
Extensive Asset Library: A vast collection of stock footage, music tracks, and animations to enhance video quality.
Auto-subtitling: AI-driven tools that generate accurate subtitles, a boon for enhancing YouTube video accessibility.
Dynamic Transitions & Effects: Add flair to videos with a range of pre-set transitions and customizable effects.
Pros
Multi-user collaboration facilitates team projects.
A rich asset library reduces the need for external resources.
Auto-subtitling enhances video accessibility and engagement.
Cons
Might have a steeper learning curve for absolute beginners.
Some advanced features might be locked behind premium tiers.
Pricing
Motionbox employs a tiered pricing approach:
Free Plan: Basic access with watermarking and limited features.
Pro Plan: Extended features, increased cloud storage, and no watermarking.
Team Plan: Designed for collaborative work, with additional team-centric tools and functionalities.
How does it compare to other tools?
Motionbox shines in the collaborative video editing space, making it a preferred choice for teams or creators who often work with partners or colleagues.
While its AI functionalities streamline the editing process, the tool's emphasis on collaboration sets it apart, especially for those producing content in a team environment for YouTube.
11. Aiva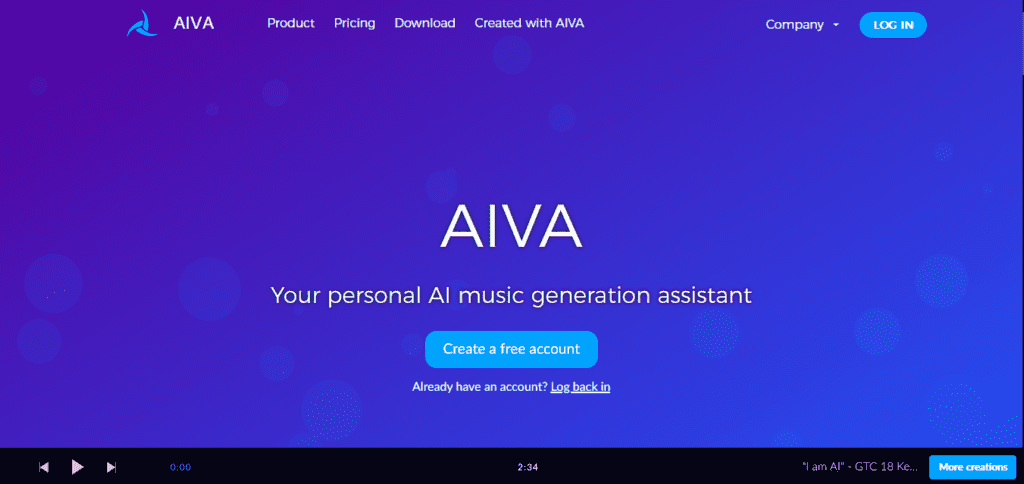 Aiva is a distinctive AI-powered platform that specializes in music composition for videos. Catering to filmmakers, advertisers, and YouTubers, Aiva creates unique soundtracks tailored to the emotion and flow of video content, giving every creation a personalized touch.
Specifications
Built upon deep learning models, Aiva analyses the nuances of a video to curate a matching soundtrack. It's not just about syncing beats with cuts; Aiva understands the emotional undertones and crafts compositions that elevate the storytelling aspect of videos.
Whether it's a fast-paced travel vlog or a heartfelt documentary, Aiva ensures that the music is in harmony with the content, enhancing viewer engagement.
Features
Aiva's suite of features is tailored for optimal music composition:
Video Analysis: AI-driven examination of video content to grasp its essence.
Genre Selection: Choose from a plethora of genres to fit the desired mood.
Mood Mapping: Allows users to set specific moods at different video segments, ensuring the AI composes accordingly.
Instrumental Variations: Option to include or exclude certain instruments, granting more control over the final piece.
Pros
Unique, AI-composed music ensures content stands out.
Intuitive mood mapping enhances video storytelling.
Adaptable to various video genres, from vlogs to documentaries.
Cons
Might not replace the intricacies of a human composer for very specific projects.
Could have a learning curve for users unfamiliar with music basics.
Pricing
Aiva has a tiered pricing model:
Basic Plan: Access to standard compositions with limited customization.
Professional Plan: Enhanced customization options, higher-quality outputs, and priority support.
Enterprise Plan: Tailored for larger projects or businesses, including API access and bulk composition options.
How does it compare to other tools?
While many tools focus on video editing, Aiva's specialization in AI-composed music sets it apart. For YouTubers who want their content to have a distinctive sonic identity, Aiva is a game-changer.
It amalgamates the power of AI with the beauty of music, ensuring videos aren't just seen but truly felt.
12. Moovly
Moovly is a dynamic online platform that allows users to create, customize, and share videos with ease.
It's a go-to solution for YouTubers, educators, and businesses alike, aiming to produce high-quality videos without the complexities of traditional editing software.
Specifications
Moovly operates in a cloud-based setting, which means there's no software to install. It's equipped to handle a vast array of multimedia files, ranging from images, sound clips, to high-resolution videos.
The platform is designed to be user-friendly, ensuring even those with limited editing experience can produce professional-grade videos.
Additionally, Moovly integrates advanced AI capabilities, assisting in tasks such as automated voiceovers, content recommendations, and video optimization for diverse platforms.
Features
With Moovly, users are privy to a spectrum of features including:
Drag-and-Drop Editor: Simplifying the video creation process, allowing elements to be placed seamlessly on the timeline.
Automated Voiceovers: Input a script and let the AI craft a natural-sounding voiceover in multiple languages.
Template Library: A collection of pre-made templates catering to different video types and genres.
Stock Media Access: Users can tap into a vast reservoir of stock videos, images, and music to enrich their content.
Pros
Intuitive drag-and-drop interface reduces the editing learning curve.
In-built AI voiceover tool aids in multi-language content creation.
Extensive template and stock media libraries offer varied creative choices.
Cons
Advanced features might require a premium subscription.
The cloud-based nature could be limiting for those with inconsistent internet access.
Pricing
Moovly's pricing structure includes:
Free Plan: Basic functionalities with Moovly watermarking.
Pro Plan: Enhanced features, HD exports, and removal of watermarks.
Enterprise Plan: Advanced capabilities tailored for businesses, including API integrations and team collaboration tools.
How does it compare to other tools?
Moovly's emphasis on simplicity without compromising on feature depth makes it a popular choice for many.
While tools like TubeBuddy or vidIQ focus on YouTube optimization, Moovly ensures the video creation process itself is streamlined and efficient. Its AI-driven features, combined with a vast resource library, ensure YouTubers have all they need to create compelling content.
13. Clipchamp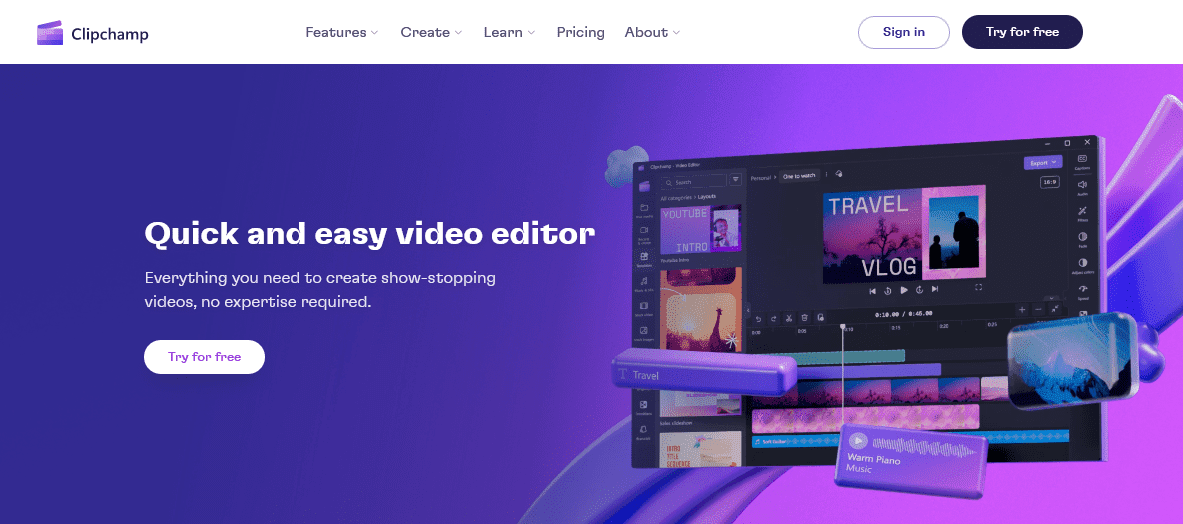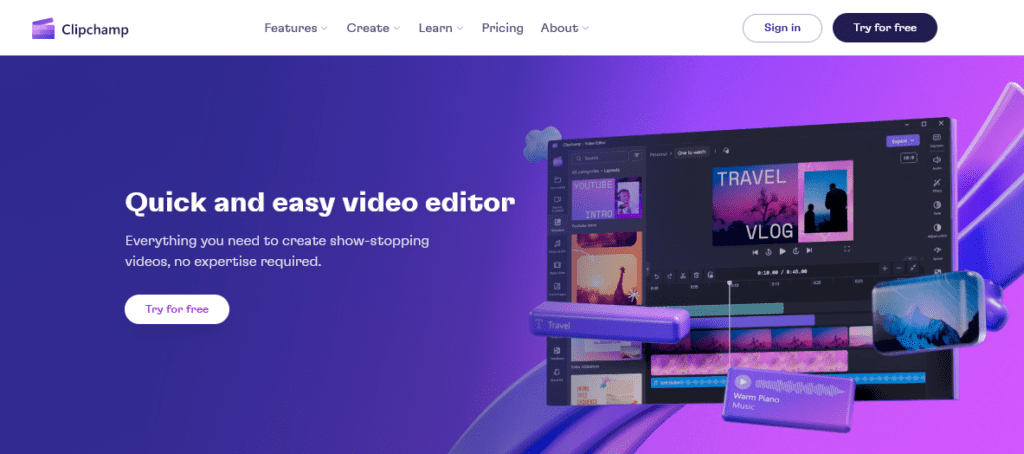 Clipchamp is a versatile online video editor that provides a range of tools for creating, compressing, and converting videos.
Favoured by YouTubers, startups, and educators, the platform ensures quality video content can be created without a steep learning curve or heavy software installations.
Specifications
Operating as a browser-based tool, Clipchamp doesn't demand significant system resources. It's designed to be adaptive, catering to both novice users and seasoned video creators.
The platform incorporates advanced AI technology, which aids in automatic video optimization, ensuring the content is primed for its target platform, be it YouTube, Instagram, or any other medium.
Features
Clipchamp offers a blend of functionalities that streamline the video creation process:
Intuitive Editor: The drag-and-drop mechanism empowers users to craft videos by simply moving elements around.
AI-driven Optimization: The tool analyzes videos and suggests optimizations for the intended platform.
Templates Galore: A wide selection of templates tailored to various content types, from promotional videos to vlogs.
Stock Library: Access to an array of stock footage, audio, and graphics, enhancing the video's visual and auditory appeal.
Pros
User-friendly interface ideal for beginners.
AI optimizations ensure videos are platform-ready.
Extensive template collection caters to diverse content needs.
Cons
Some advanced features are tucked behind the premium plans.
Being browser-based, its performance might be influenced by internet speeds.
Pricing
Clipchamp operates on a tiered pricing model:
Basic Plan: Free to use with Clipchamp branding.
Creator Plan: Advanced editing tools, stock library access, and 720p exports.
Business Plan: Everything in Creator, plus 1080p exports, custom branding, and screen recording features.
Business Platinum: Prioritizes users with faster processing, more stock assets, and premium support.
How does it compare to other tools?
While tools like Moovly emphasize stock media and AI voiceovers, Clipchamp focuses on providing a straightforward video editing experience with AI-optimized outputs.
Its browser-based nature ensures accessibility, making it a favourable choice for those who switch devices often or work on-the-go.
Conclusion
Navigating YouTube's dynamic landscape can be a daunting task. Yet, with the right AI tools at your disposal, the journey becomes not only manageable but also exhilarating.
Whether it's editing, analytics, or engagement, ensure you're equipped with the best. So, what are you waiting for? Dive into the AI revolution and reshape your YouTube narrative today.