Writing EBOOKS
in one click
📚Completely unique books
🚀You can resell them as your own
📝Perfect lead magnets or for Amazon KDP
📜In-depth and up to date information
💰Book is done in 10-15 minutes – one click

and more …


Write an ENTIRE book in one click 👇
Instead of spending months on writing a book for a lead magnet, or for Amazon Kindle Publishing, you can do it in one click.
Better than ChatGPT
"This tool is like ChatGPT on steroids." Designed for marketers, by marketers.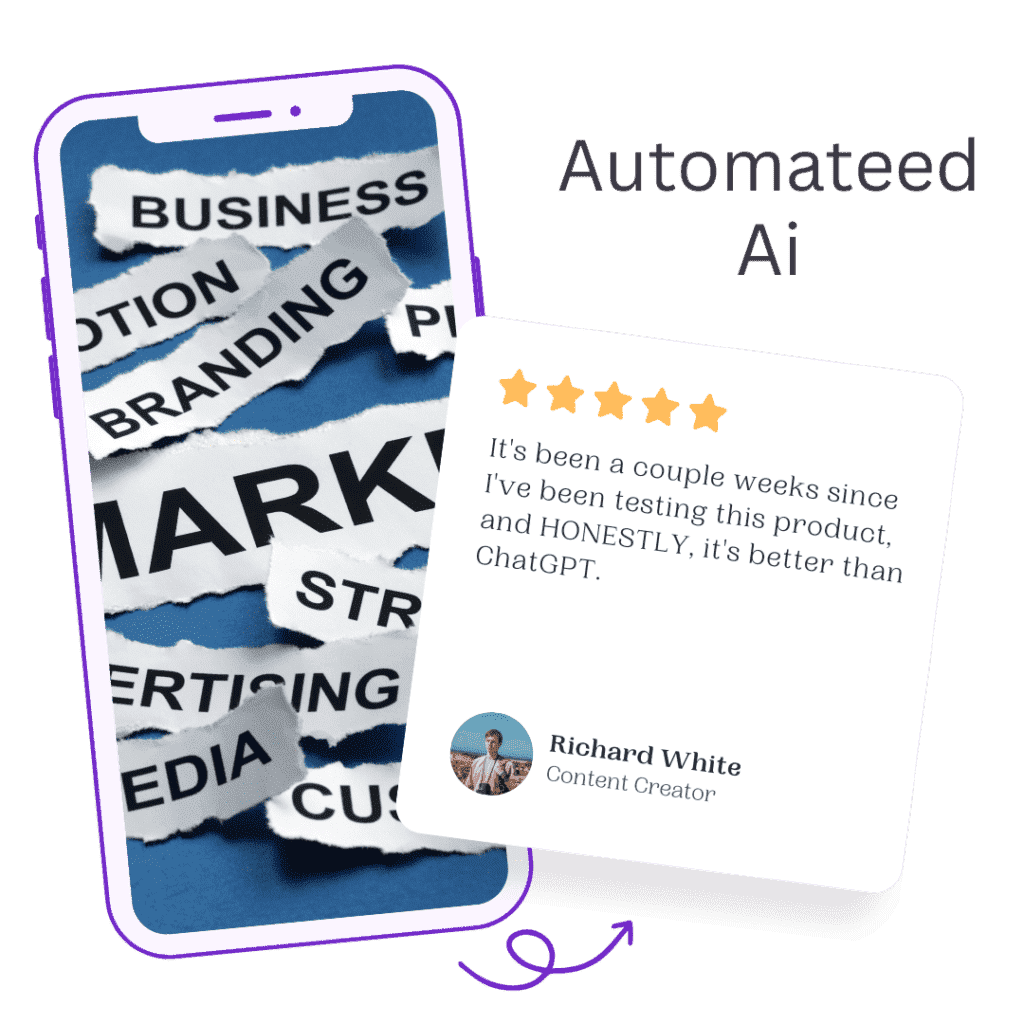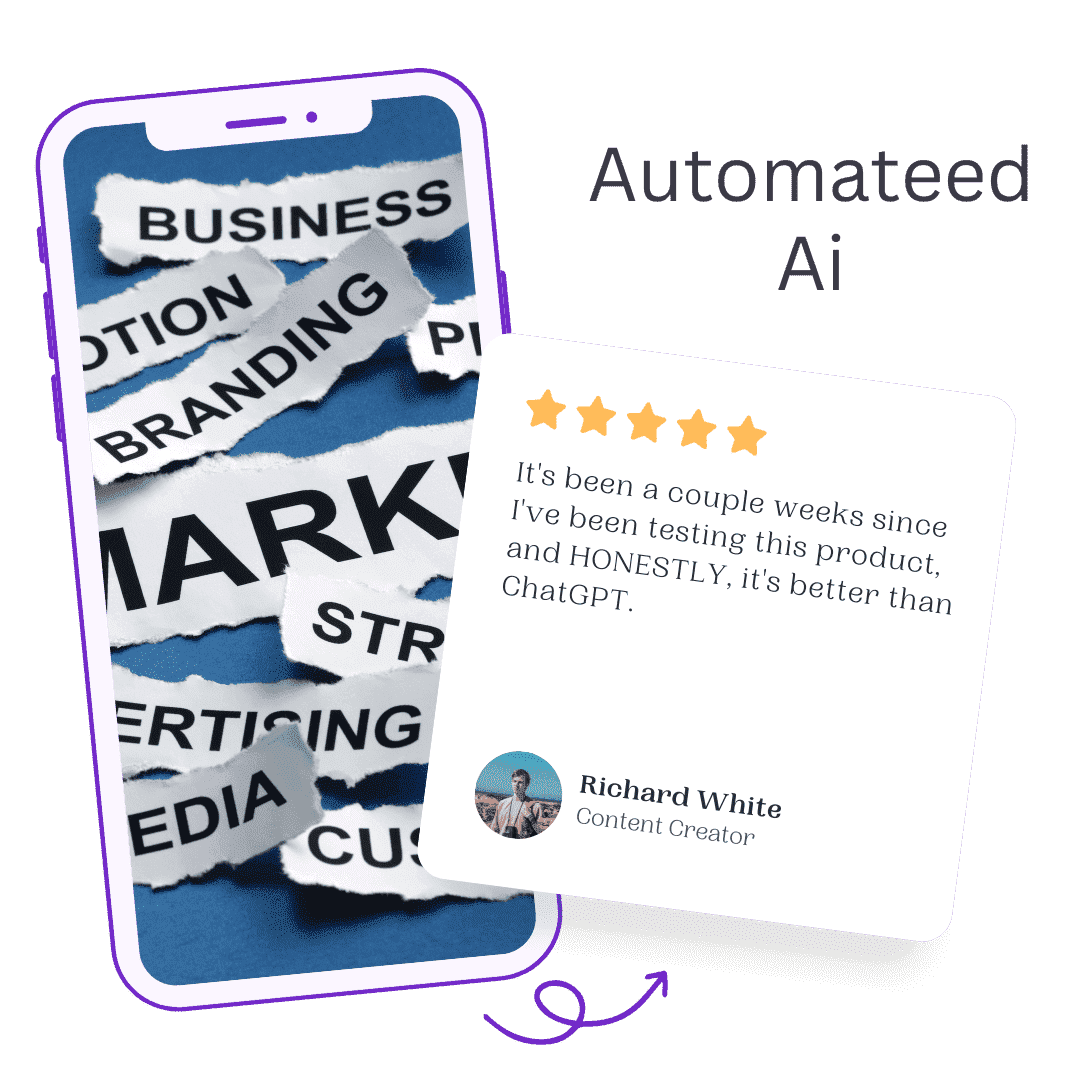 Entire eBook Creation Workflow
We break down the entire workflow for you. From idealization to realization. We find you a niche, a subniche, topics ideas, title ideas and much much more. The tool even does marketing tasks for you!
It takes 15 minutes per eBook
What once took weeks or even months, now takes less than 15 minutes. Entire book with images in place. No experience in writing? No problem. No experience in novel writing? No problem. This does it for you, instead of you.
On top of it, there are over 100 tasks you can automate and generate almost instantly. All by using smartest AI in the world. Struggling with words?
Over 100 automated marketing tasks to speed up your work
Introducing Automateed AI, your marketing ally 💪🏼. We've tailored it to streamline your creative process, making it easier to craft books, campaigns, scripts, blog articles, and more for efficient and effective marketing.
Automateed AI leverages the power of artificial intelligence to enhance your workflow and produce standout results. Whether you need to draft a social media post, script a video, pen text for a sales ad, or brainstorm ideas for TikTok videos, Automateed AI has you covered.
No need to shoulder it all yourself! Get to know Automateed AI, your dedicated marketing assistant free of charge!
How can Automateed AI assist you daily?
Automateed AI is your ultimate helper, set to revolutionize your workflow by saving you time and energy. It excels at the following advanced tasks:
Anything eBook related
Crafting a comprehensive marketing strategy
Designing and writing posts for Facebook, Instagram, and LinkedIn
Generating and penning blog post ideas
Drafting ad copy for social media promotions
Defining buyer personas representative of your target audience
Conceptualizing and scripting YouTube videos
Creating scripts for your sales videos
Generating ideas for TikTok/Shorts video formats
Designing and crafting sales emails
Translating content into any language
Writing product descriptions for your online store
How Much Weekly Time Can Automateed AI Reclaim for You?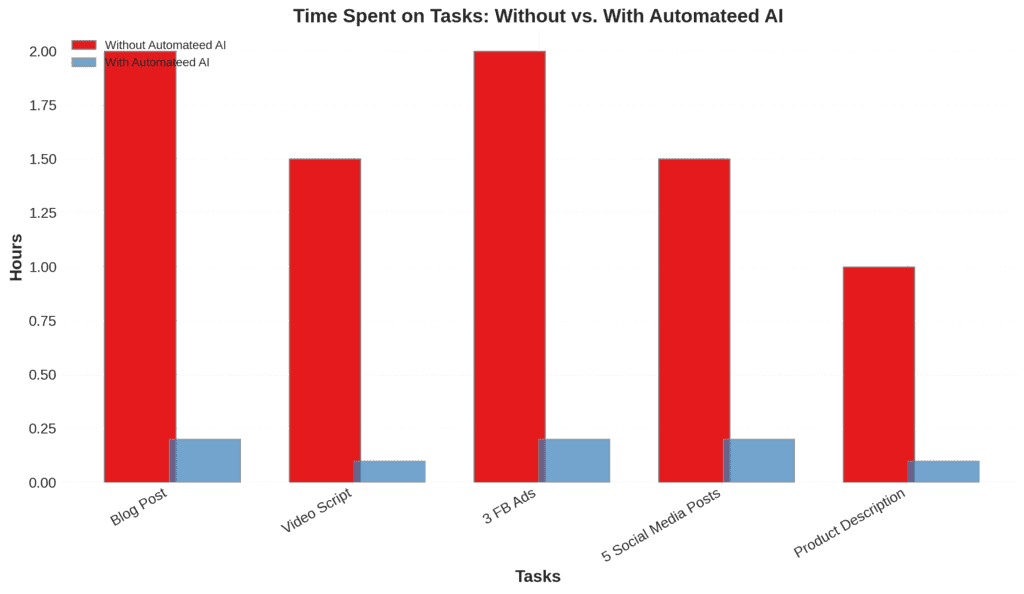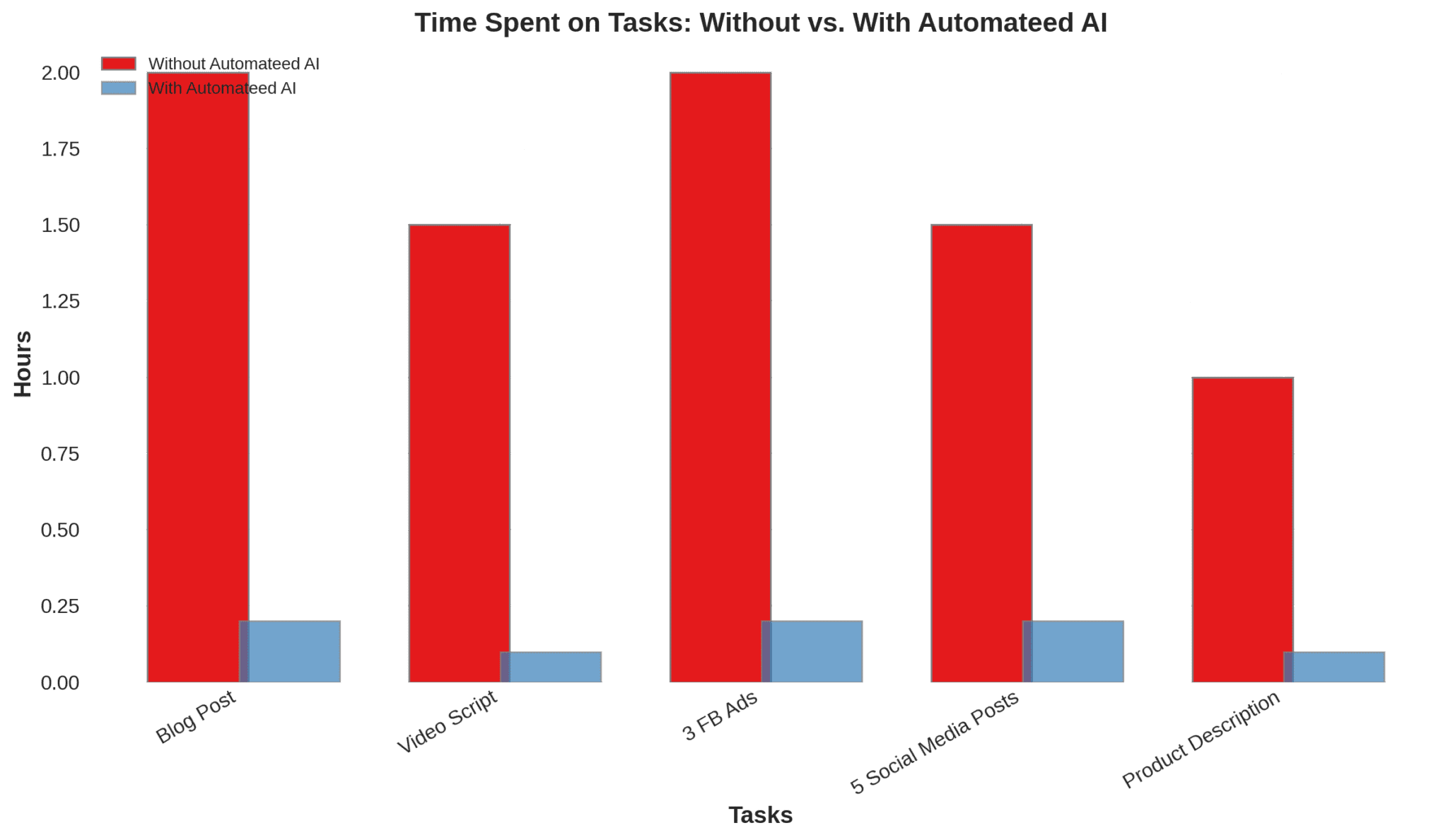 Picture this: you've got a packed week ahead. A book with deadline 3 days ago, a blog post to draft, a video script to conceive, three Facebook ads to craft, five social media messages to create, and a product description to write up.
Typically, you'd be clocking in around 48-72 hours for all that. With Automateed AI, suddenly, those tasks are down to just 1 to 1.5 hours MAX. Yes, it's that transformative – you're achieving in a fraction of the time!
The idea is simple. Sure, you've got the skills to go solo, but why not harness tools that turbocharge your efficiency? It's like having a mess on the floor: you wouldn't pick up each crumb individually when you have a vacuum to do the heavy lifting.
Why Should Automateed AI Be on Your Radar?

No matter where you work or who you work for – from startups to established giants, for personal projects or client tasks – Automateed AI is your time-saving guru.
It's not just about churning out content or drafting ads; it's about crafting LinkedIn posts with flair, conjuring video scripts that pop, even suggesting ideal backdrops for filming.
Need a quick translation or a summary of that lengthy report? It's got you covered.
What's the Catch?
We're banking on Automateed AI being your go-to digital partner. But hey, we get it: sometimes things don't mesh.
Give it a whirl for free. If it's not your jam, we'll understand, and you won't have to spend a penny. It's a no-fuss, no-muss guarantee. Zero risks, all rewards 💪🏼.
Not only it can help you boost your current business, finish work faster, but it unlocks …
New Automated Business Model Unlocked👇
Free mini course
It instantly writes whatever you need.

Facebook ads? Done.
Cold emails? Done.
Blog post ideas? Done.
Entire blogs? Done.
Product descriptions, marketing strategy, and much much more….👇
Who is this tool for?
For all the pioneers in marketing and publishing, whether you're an experienced marketer or a motivated entrepreneur, Ai Automateed will be your indispensable partner.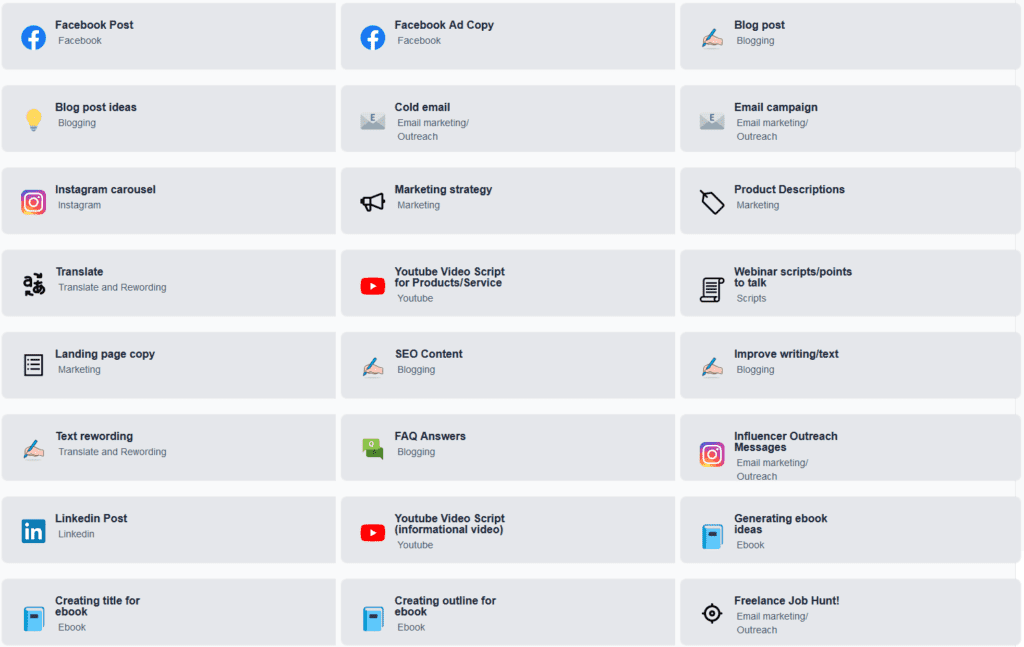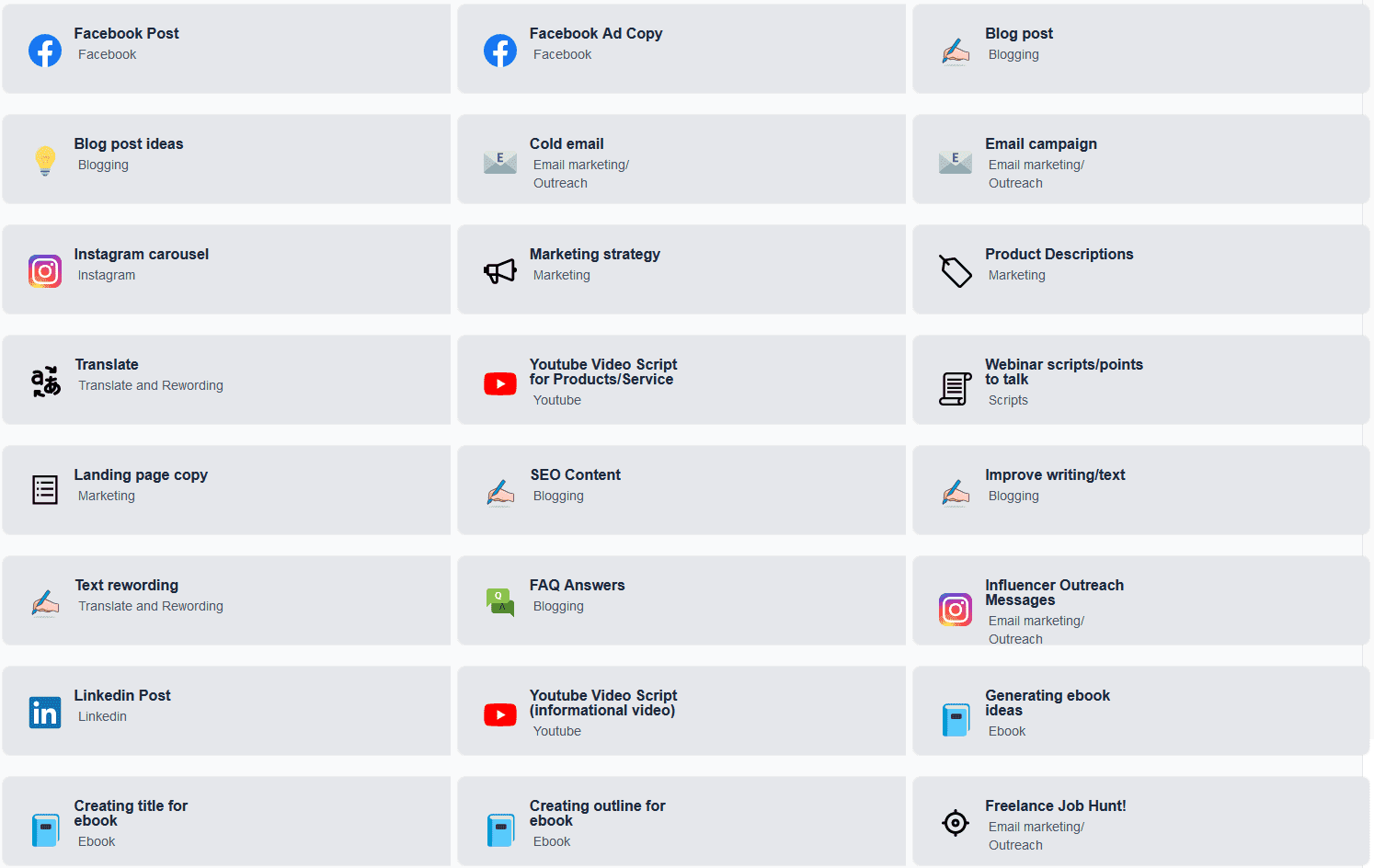 Sign up to Watch a Free Demo!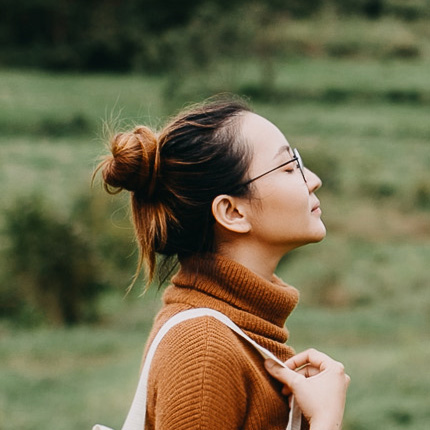 A great tool
I tried the version 1 of the tool and it had some issues, but the second version is like a bible for marketers. If you used ChatGPT, it's like the difference between the GPT 3 and 4. I love the tool now and it's helping me BIG TIME.
~ Anna W.
Reviews❤️
Trausti Sigurdson
"It seriously changed my social media game. Instagram, Facebook, TikTok, you name it."
Dawson Charles
"They've got some super advanced stuff that blows my mind."
Kofey
Ababio
"I can't believe how much time I've saved since I started using their prompts."
Blake
H.
"Incredibly impressed."
Noah B.
"As an AI enthusiast, I was thrilled to discover this course. It has given me the knowledge and confidence to monetize my passion for ChatGPT prompts, and I've experienced tremendous success in the market. I can't thank Automateed and their GPT Genius enough!"
Grace W.
ChatPromptsGPT LLC
"I was blown away by the quality of the course material and the level of support provided. The step-by-step roadmap made it easy to follow along and build a successful prompt-selling business from scratch. I'm now making more money than I ever thought possible!"
Ethan P.
"The course offered by Automateed has been a lifesaver for my struggling content creation business. By learning how to sell ChatGPT prompts effectively, I've been able to tap into a whole new revenue stream. I couldn't have done it without this amazing course!"
Sophia G.
"I couldn't be happier with the results I've seen after taking this course. The strategies taught are practical and effective, and the community is a goldmine of knowledge and support. If you're serious about making money selling ChatGPT prompts, this is the course to take!"
Lucas S.
"This course was a game-changer for my freelance business. I've expanded my skill set, tapped into a growing market, and am now making more money than ever before. The support and resources provided are top-notch. Highly recommend!"
Jennifer L.
"I was new to the world of AI and ChatGPT prompts, but this course made everything easy to understand and implement. The one-on-one consultations were incredibly helpful, and my prompt-selling business is now thriving. Thank you!"
Michael C.
"As a digital marketer, I was always on the lookout for new ways to leverage AI. This course opened my eyes to the potential of selling ChatGPT prompts and provided me with the tools and strategies to make it a successful venture. I can't recommend it enough!"
Olivia R.
"I was skeptical at first, but this course exceeded all my expectations. The lessons are easy to follow, the strategies are highly effective, and the community is incredibly supportive. My prompt-selling business has never been more successful!"
David M.
"The GPT Genius by Automateed is a game-changer. I went from struggling to make a single sale to having a consistent stream of customers, all eager to purchase my ChatGPT prompts. The support and guidance provided were invaluable!"
Sarah T.
"This course completely transformed the way I approach selling ChatGPT prompts. The strategies and techniques taught are incredibly effective, and I've seen a significant increase in my sales and revenue since completing the course. Highly recommended!"
Why choose Automateed AI over other free AI platforms?
Automateed AI is tailored for efficiency. While many free platforms have limitations in usage and precision, our platform harnesses the power of finely-tuned prompts developed over extensive research. This means less time experimenting and more time getting accurate results.
Can anyone use Automateed AI, even without tech experience?
Absolutely! If you're familiar with sending an email or writing a text, you'll find Automateed AI intuitive. Think of it as a virtual colleague who's available around the clock, always ready to assist without a hint of fatigue.
How can I test out Automateed AI?
We believe in our product and want you to experience its benefits firsthand. Sign up for a trial. a free trial for all new users to explore the platform.
What are my payment options?
We accept major credit cards, including Visa and Mastercard, through Stripe.
Which devices support Automateed AI?
Whether you're on a desktop, laptop, tablet, or mobile phone, if it connects to the internet, it's compatible with Automateed AI. Our platform is optimized for all devices for a smooth user experience.
Will I benefit from future updates and new features?
Yes! Your subscription ensures you have access to all new features and tools we roll out. We're constantly innovating, aiming to provide tools that make your business operations more efficient.
How does Automateed AI ensure data security?
Data security is our top priority. All interactions on our platform are encrypted, and we adhere to stringent data protection standards. Rest assured, your data is in safe hands.
How does Automateed AI stand out from other AI platforms?
Beyond functionality, Automateed AI emphasizes user experience. Our commitment is to make AI not just powerful but also user-friendly. Continuous updates based on user feedback ensure our platform remains at the forefront of AI utility.