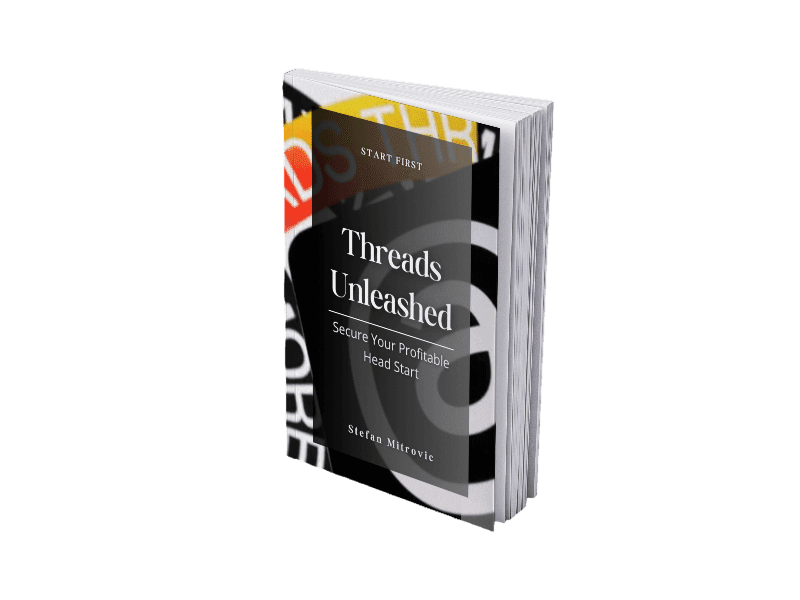 Threads Unleashed: Go VIRAL, Early Start
(using Ai)
Discover the secrets to mastering Threads, the latest social media sensation, and secure your profitable HEAD START in this rapidly growing platform.
Get The Book Now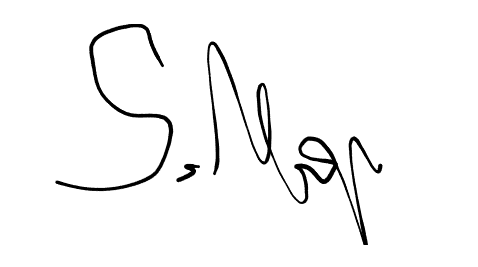 The Perfect Time is Now…
Threads, the new app developed by the Instagram team, is taking the social media world by storm.
There's already 100 mil people on Threads…
But all these users are just wondering on the app like they're lost.
With its rapidly growing user base, Threads presents an insane opportunity for entrepreneurs, influencers, and businesses alike.
But like any new platform, the early adopters who understand how to leverage its features effectively will reap the most benefits.
That's where "Threads Unleashed" comes in. This comprehensive guide provides you with a one-step-ahead blueprint to mastering Threads, helping you build a strong following, engage effectively with your audience, and monetize your presence.
The Early Bird Gets the Worm…
(And What Your Next Steps Should Be)
Being an early adopter in a new platform is like striking gold.
It's a chance to establish yourself before the market becomes saturated, and to connect with a highly engaged audience that's eager for fresh content.
But to truly capitalize on this opportunity, you need to understand the ins and outs of the platform.
"Threads Unleashed: Secure Your Profitable Head Start" is your roadmap to success on Threads.
It's packed with
Practical strategies,
Actionable tips,
PROMPTS that you can use (ChatGPT),
that will help you navigate the platform like a pro, right from the start.
The Future is Threads…
As Threads continues to evolve and grow, so too will the opportunities it presents.
But the window for early adoption won't stay open forever.
Now is the time to dive in properly, to learn the ropes, and to secure your profitable head start.
With "Threads Unleashed: Secure Your Profitable Head Start", you're not just getting a guide to the current state of Threads.
You're getting a forward-looking resource that will help you stay adaptable and relevant as the platform evolves.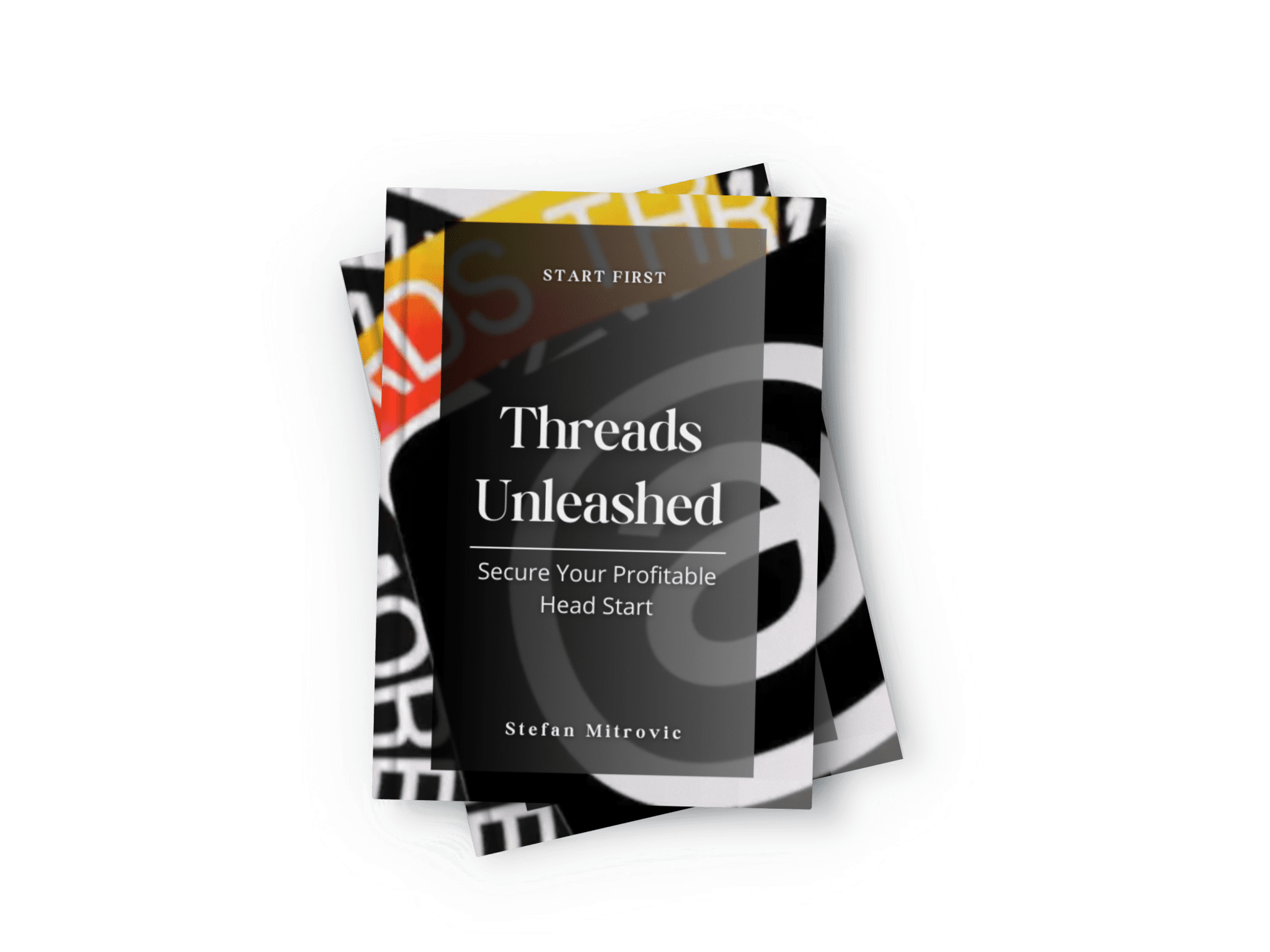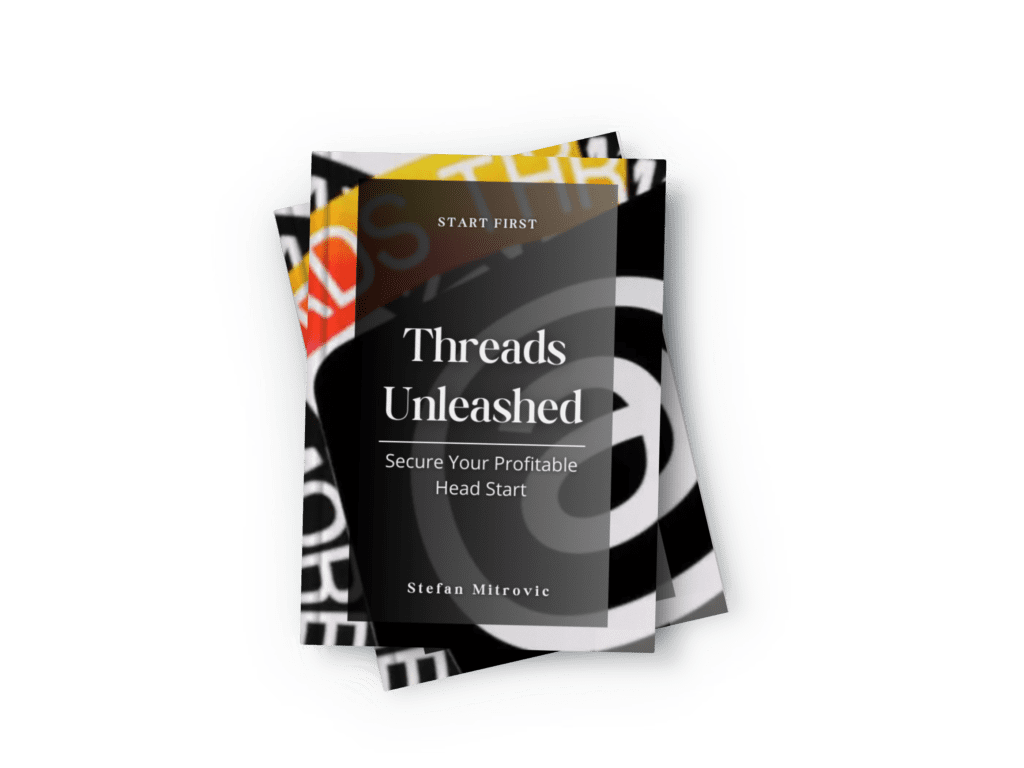 Get your copy now!
…and start selling digital products like crazy in the next 24 hours.
The Second Mover Advantage: Your Winning Ticket
In business, we call the first person to test out a new technology in their given market "the first mover"
For instance, the first mover for selling books on the internet was a company called Bookstacks. They actually beat Amazon.com to market by a full year!
While it might sound like a benefit, I can assure you this:
Being the first mover is tough.
I've been there. You're basically having to lay down all the groundwork and hope something works. You have no roadmap, and you're a lost little duck in the world. You're hoping for a miracle that you can actually make money off of this new technology.
This is why you've never heard of Bookstacks, but you now use Amazon all the time!
Now, being the last mover is even worse.
Everything is so crowded you can barely breathe. There's no room to enter the market.
That's why the second mover has the biggest advantage. When a new technology debuts, the second mover is very early to market, but can learn from the first mover's mistakes.
And that's where you are at, right now, with AI and THREADS.
Here's what I mean:
There is a way you can use Ai to do something that wouldn't cross anyone's mind.
And there is a blueprint how to do it.
How?
I recently had a student of mine do so, and absolutely crush it within 3 days!
There are over 100 million users on Threads already (5 days after the launch).
In a year there will be probably 10x more users.
It's going to get harder and harder to breakthrough… but what if you could get a stronghold on the Threads right now. Before the influx, and still be able to use the technology that will eventually flood the app.
By the time that market is flooded, you could have millions of followers and tens of thousands of leads.
I know it's possible, because I've done this over and over with
EVERY…SINGLE…APP…
With the Facebook back in 2007, Instagram in 2010, and Tik Tok in 2016.
And I can, with complete confidence, tell you this:
All of those other huge APPS PALE in comparison to what you are about to see unfold with Threads.
I live in Silicon Valley, know this scene well, and can absolutely tell you things are about to change significantly.
Now is the time to grab your piece of the pie. It could easily be too late in 1 month or 3.
How To Seize This Incredible Opportunity
So we're fortunate to be here, now, how can we seize the position we're in?
Well, I can tell you what I tell the 30 employees I have in my companies: The trick is to move extremely fast during huge technological shifts like these.
But don't take my word for it, let's hear it from some of the most successful entrepreneurs of all time:
Mark Zuckerberg

"Move fast and break things. Unless you are breaking stuff, you are not moving fast enough."
Reid Hoffman, co-founder of LinkedIn

"If you're not embarrassed by the first version of your product, you've launched too late."
Elon Musk

"The faster you iterate, the faster you will converge on something that works."
Launch Express: Your Blueprint to Success
Threads is not just another social media platform; it's an evolution.
It's a fresh and innovative space focused on text-based content and meaningful conversations. But without the right knowledge and understanding, it can seem daunting to engage and grow within this space.
That's where "Launch Express: Your Blueprint to Success" comes in. This book is not just an introduction, it's a complete roadmap designed to help you unlock the immense potential Threads has to offer.
The book covers it all.
It doesn't stop at just explaining the platform; it delves into creating a robust growth strategy tailored specifically for Threads, helping you identify your niche, understand your target audience, and develop an effective content strategy.
This guide offers step-by-step instructions, it explores the essence of posting on Threads, emphasizing the importance of keywords, tagging, quote posts, bio optimization, posting frequency, and how to effectively engage with other users.
"Launch Express" also provides you with actionable insights on how to grow and retain your following, and monetize your presence on Threads. It also shares predictions about the future of Threads, ensuring you stay ahead of the curve and continue to adapt and thrive as the platform evolves.
Whether you're a:
Seasoned social media influencer,
budding entrepreneur,
or simply someone looking to make a mark in the digital space,
"Launch Express: Your Blueprint to Success" is the guide that equips you with the knowledge, strategies, and tools you need to stand out and succeed on Threads.
It's not just about understanding Threads – it's about mastering it BEFORE ANYONE ELSE.
Discover how you can convert a simple social media account into a powerful platform for connection, engagement, and growth.
Get your copy now and start your journey to success on Threads today!
Who Can This Book Help?
Throughout my professional journey, I've worked with individuals from all walks of life, people at different stages of their digital growth curve. I have seen how the right knowledge at the right time can lead to breakthroughs.
I believe in the power of the early bird – the ones who are quick to recognize opportunity, quick to take action, and quick to benefit from their foresight. This is why I tailored this book for those who wish to step ahead of the crowd and seize the opportunities presented by this novel app.
This book is particularly beneficial for…
Startups and Innovators: Are you launching a groundbreaking service or a product? This book offers the strategy to get your innovation out there and into the market before it gets crowded.
Digital Marketers: SEO, social media, content marketing – you name it. This book is for digital marketers who want to stay ahead of the curve and harness the power of the new app in its initial phase.
Entrepreneurs and Business Owners: Gain an edge in your business by leveraging this new platform. Learn how to capture market share early on and build a robust customer base.
Career Changers and Job Seekers: Are you considering a new career or looking for new job opportunities? This book will help you understand how to utilize the app effectively to showcase your skills and talent to potential employers.
Freelancers: Get a leg up in the competitive freelance market. Learn how to use the new app to market your skills, gain clients and stay ahead of your competition.
Early Adopters: If you're someone who thrives on being first, who loves to explore new technologies and platforms before they become mainstream, this book is for you.
Academics and Researchers: This book can help you understand the early dynamics of a newly launched app, providing insights that can shape your research or teaching.
Tech Enthusiasts: If you're excited about every new app that hits the market, you'll love diving deep into this one. Learn how it works, how to use it effectively, and how to stay ahead as it evolves.
Remember, the early bird catches the worm. With the launch of this new app, an uncharted territory of opportunities is unfolding. And this book could be your map to navigate these waters before they become well-trodden.
Consider it this way…
What's Been Holding You Back?
As you're reading this, I can't help but wonder if there's something that's been preventing you from starting ON TIME and expanding your business.
From my years of experience, I've found that the usual suspects are time, money, or the fear of failure.
It's a common scenario. Most of us are running on a tight schedule and budget. And the fear of failure? It's a universal hurdle, but one that I address directly in this book.
The good news? Every service I mention in this book is free or comes with a generous free trial.
If you follow the path I've laid out, you'll have ample time to aim for virality before spending a single penny. What an incredible time to be alive!
If I were a betting man, which I'm not, I'd wager that time is the biggest issue for most. Instead of spending time trying to go viral on Tik Tok, Instagram, or other established apps, use Threads instead and hop on its early train.
I've gathered data on this. I've worked with over 10,000 students, just like you, who are trying to fix things when they are already broken:
Approximately 96% of people who I work with are trying platforms that are dying.
But that's about to change. The key will be seizing this opportunity before the market becomes saturated.
So, why wait? Grab your copy now! Learn how to USE THREADS ONE STEP AHEAD. Get Your Book.
This Book Has Everything You Need to Succeed
And I can't wait for you to read it.
As for the price, I'm not interested in charging an arm and a leg for this.
Most books I buy on Amazon cost around $14, but they're also a long read.
This is not that kind of book.
This is a quick read. You can breeze through it in an afternoon or two, and that's by design.
As you'll see, I just present the facts in this book. I'm not here to pad it out so you feel like you've got your money's worth.
Instead, I want to give you the essential stuff, the information you can use right now to build something extraordinary.
That's it.
Your Next Steps
The investment for the book is a mere $7.99.
This price wasn't chosen at random. It's affordable, practical, and a small price to pay for the potential returns. For a bit more than the cost of your afternoon caffeine fix, you can gain the knowledge to secure a profitable head start on Threads.
This exclusive offer is only available on this website, and you can download the book instantly after purchase.
If you're ready to master Threads, to leverage its potential, and to get ahead of the curve, then don't hesitate. Click here to order now:
Thanks for checking it out!
Stefan Mitrovic
Super easy to read, grab it below: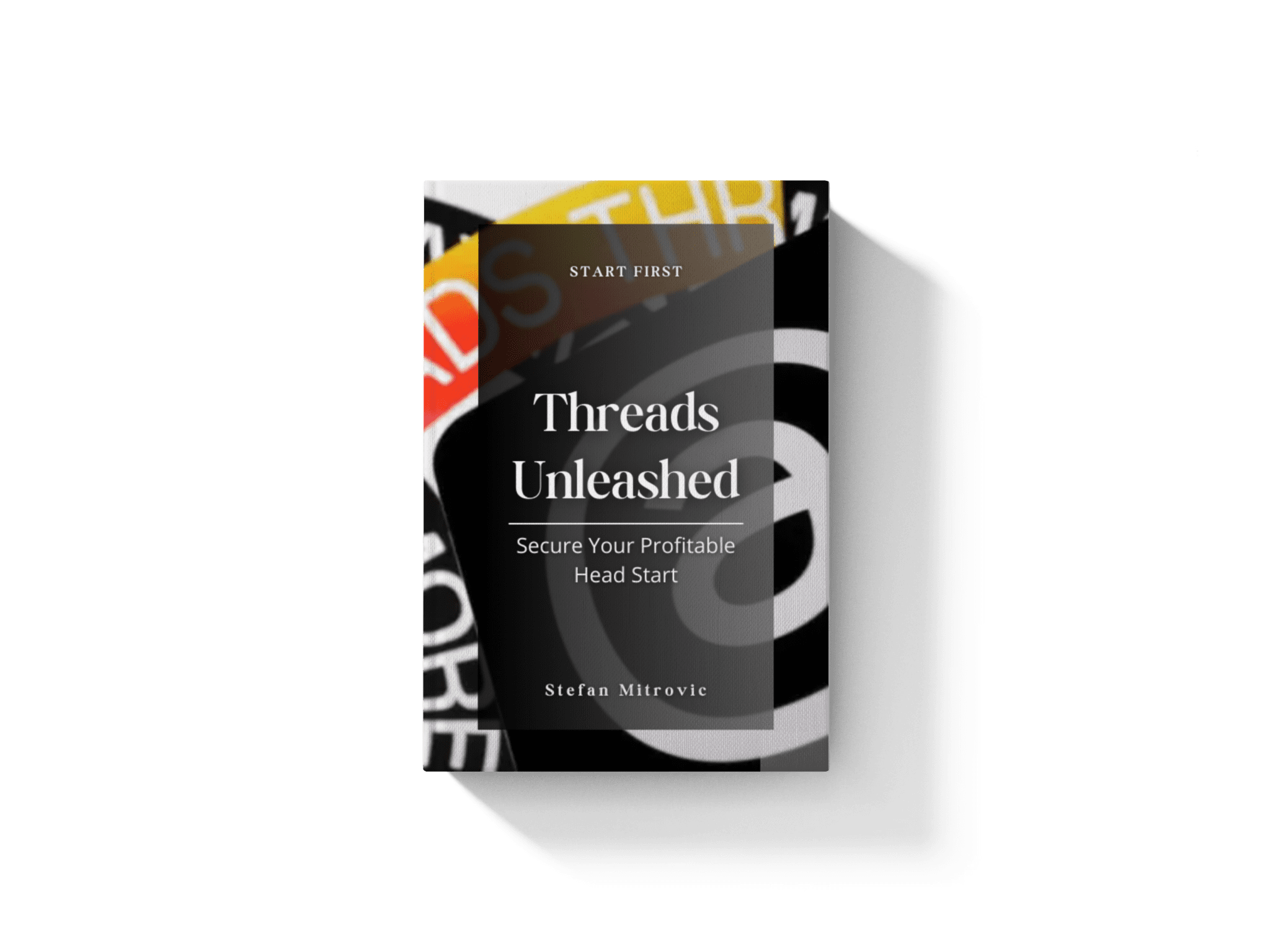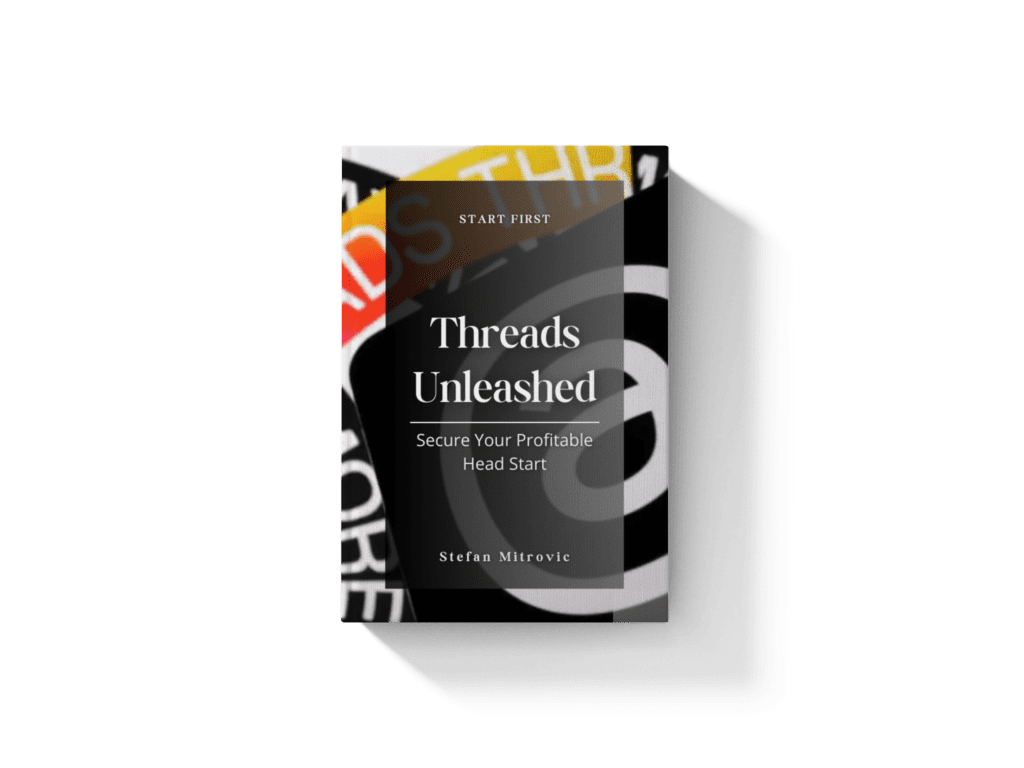 Get The Book Now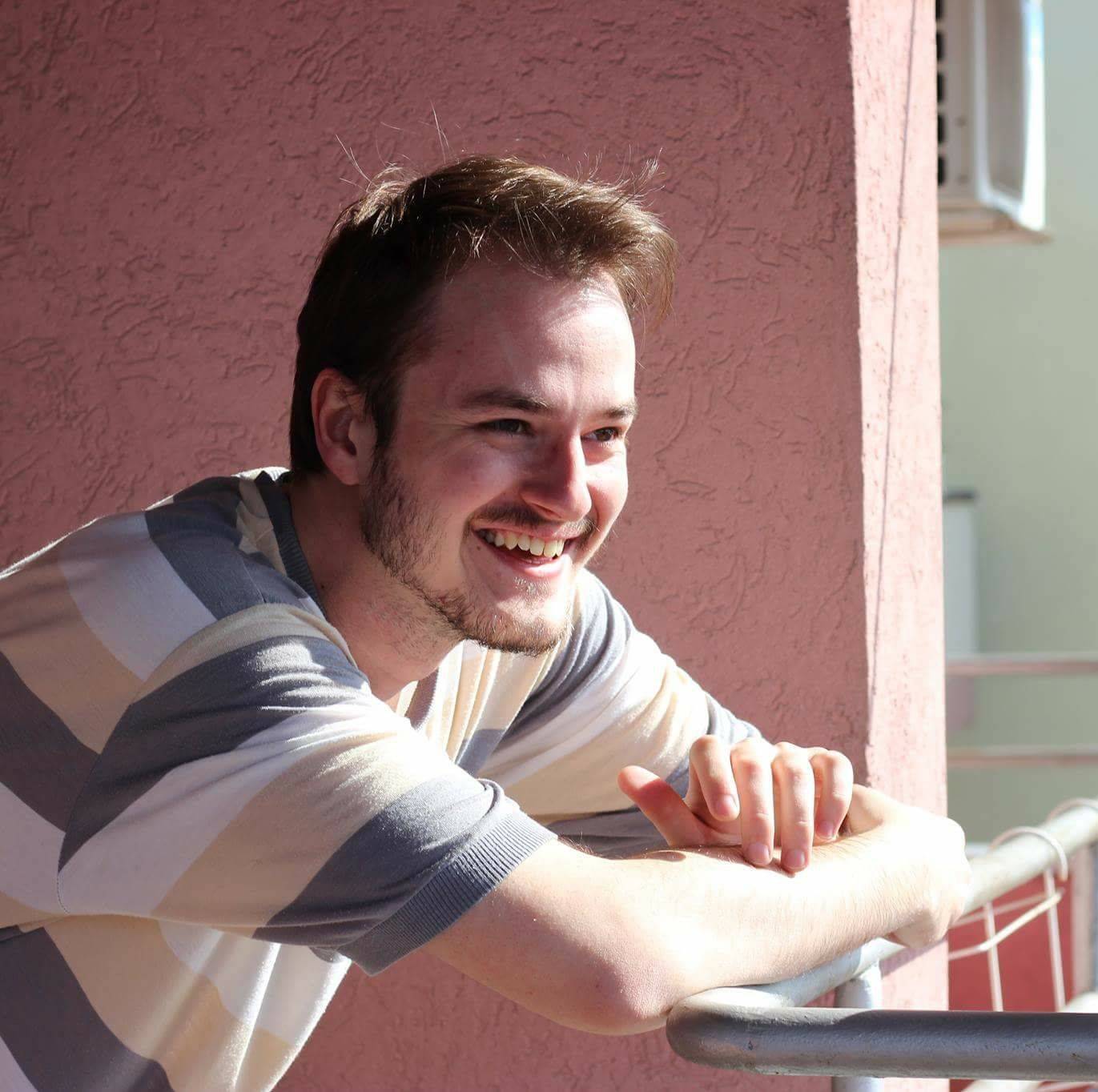 Meet Stefan Mitrovic
Hello there! I'm Stefan Mitrovic, a digital marketing maverick with a journey as unique as the field itself. I started my career as a writer on Upwork, and over seven transformative years, I've evolved into a creator of top-notch digital products and online courses.
My mission? To demystify digital marketing and empower businesses and individuals with the tools they need to succeed in the digital world. Let's navigate this exciting landscape together!